WASHINGTON (Sputnik) — Former Florida Governor Jeb Bush officially announced on Monday afternoon that he will run for President of the United States in 2016, becoming the eleventh Republican candidate to join the race.
"For all of us it's just a place to be in a campaign that begins today," Bush said at a rally at Miami Dade College in Miami, Florida. "I've decided I am a candidate for President of the United States."
Bush, 62, is the second son of former President George H. W. Bush and the younger brother of former President George W. Bush.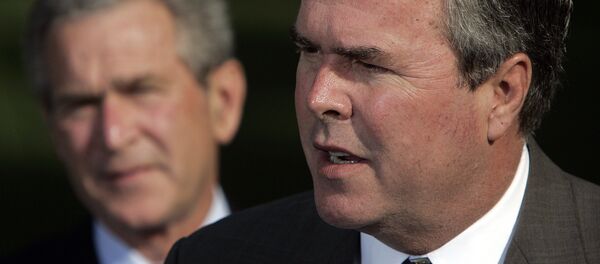 He served two terms as governor of Florida from 1999 until 2007, and his governorship was marked the privatization of traditional state services.
Bush called upon his standing as conservative and his record of ambitious change as Florida governor. "I know we can fix this. Because I've done it," he stated.
He pledged to "take Washington — the static capital of this dynamic country — out of the business of causing problems."
Bush enters a crowded field of Republican presidential hopefuls including Rand Paul, Ted Cruz, Marco Rubio, Ben Carson, Mike Huckabee, George Pataki, Carly Fiorina and Rick Santorum.
The US presidential election is scheduled for November 8, 2016.