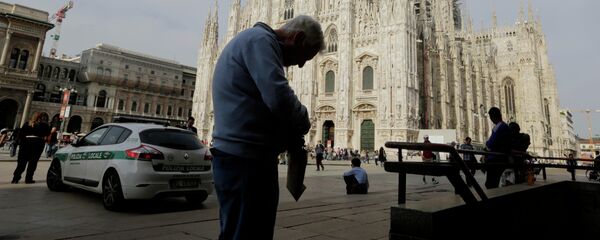 MOSCOW (Sputnik)
–
The
survey
was conducted among more than 4,000 British, French and Spanish nationals between May 1-4, to determine the reasons behind the recent surge in support for Eurosceptic political parties, including the UK Independence Party (UKIP) in Britain, the National Front in France and Podemos in Spain.
Eurosceptic and far-right populist parties performed strongly in the 2014 European parliament election, depriving rival centrist blocs of many seats, but failing to clinch a majority.
Research showed that almost half of those polled named the rising inflow of refugees to the European Union as the main concern helping right-wing parties gain ground in Europe.
A slightly smaller number of respondents said the ruling parties have failed to deliver on their promises, while more than one third said that disenchantment with Brussels accounted for increased support for anti-EU forces.
Sixty-seven percent of Britons polled named migration as the main reason for UKIP's rise in the polls. UKIP, which came third in the May 7 general election in terms of votes, campaigned for strict curbs on immigration, claiming that Brussels has stripped London of a voice in the matter. A further 53 percent polled spoke about being unhappy with the European Union.
© Sputnik
Main Reasons for the Growing Poularity of Opposition Parties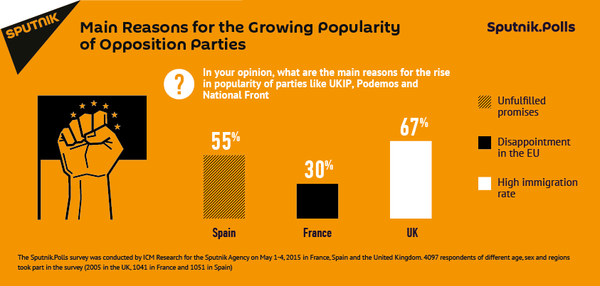 Main Reasons for the Growing Poularity of Opposition Parties
In Spain and France, 55 and 51 percent of respondents respectively, said that empty promises made by the ruling parties were the reason why non-mainstream political organizations have been making political gains. Forty-four percent in both countries named economic woes as a reason for this trend.
Marine Le Pen's National Front won a third of French votes in the 2014 European parliament election. Spain's left-wing Podemos received around 8 percent of the national vote a mere four months after its inception.
The international public opinion research project Sputnik.Polls was launched in 2014, in conjunction with leading British public opinion survey specialists ICM Research. It conducts regular opinion polls to monitor public sentiment toward social, political and cultural issues in Europe and the United States.