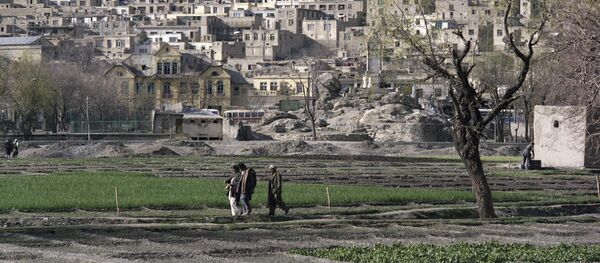 KUBINKA (Moscow Region) (Sputnik) 
–
The military forces of Russia and Central Asia must be prepared for any negative situation in Afghanistan after international forces are withdrawn, Russian Defense Minister Sergei Shoigu said Tuesday.
"We see military cooperation with the Republic of Kyrgyzstan as a priority, and our cooperation is an important factor in upholding stability in the Central Asian region," Shoigu said during a meeting with Kyrgyz Defense Minister Abibill Kudaiberdiev.
Shoigu added that Russia will continue to help Kyrgyzstan strengthen its national defense in order to be "prepared to any development in the situation [in Afghanistan], including negative developments."
Afghanistan is suffering from the activity of the Taliban, a militant group formed in the 1990s. The insurgents seek to establish sharia law in the country, and are known to be behind numerous deadly terror attacks.
The Taliban has boosted its operations in Afghanistan after NATO ended its International Security Assistance Force (ISAF) mission there in late 2014 and launched a consultation and training mission involving over 13,000 soldiers.
In March, US President Barack Obama said that all the remaining US military bases in the country will be closed by the end of 2016.