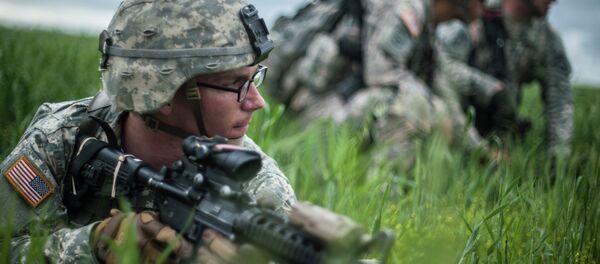 BRUSSELS (Sputnik) — Russia's reinforcement of its nuclear defense capabilities is unjustified and dangerous, NATO Secretary General Jens Stoltenberg said Tuesday, accusing Moscow of "nuclear saber-rattling."
"This nuclear saber-rattling of Russia is unjustified, it's destabilizing and it's dangerous, and this is something which we are addressing, and it's also one of the reasons why we now are increasing the readiness and the preparedness of our forces," Stoltenberg told reporters.
The NATO chief's comments follow Russian President Vladimir Putin's announcement earlier in the day that Russia will reinforce its nuclear potential in 2015 by adding more than 40 new intercontinental ballistic missiles.
According to Stoltenberg, NATO is forced to respond to a Russia which is "more assertive and which is responsible for aggressive actions," and the alliance's strategy in the East is "proportionate, defensive," and fully in line with international commitments.
"I think the statement we have heard today from President Putin is just confirming the pattern and the behavior of Russia over quite a period of time. And we have seen that Russia is investing more in their defense in general, but in nuclear capabilities in particular," the NATO chief said.
Moscow's relations with NATO deteriorated since 2014 amid the Ukrainian crisis and Russia's reunification with Crimea. The bloc accused Russia of participating in the armed conflict in Ukraine and began boosting its military presence, including increased military drills, in Eastern Europe and in the Black Sea.
Moscow has repeatedly denied the accusations, expressing concern over NATO's expansion and increased military presence in Eastern Europe near Russia's western borders.