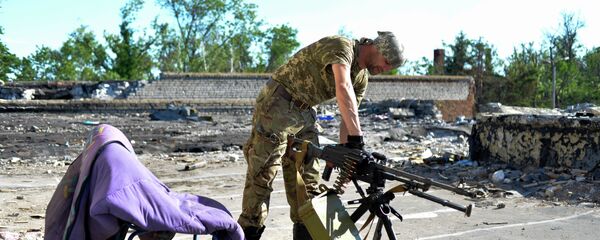 NOVO-OGARYOVO (Sputnik) — Agreeing on every point of the Minsk agreements on the Ukrainian reconciliation is the only way to resolve the armed conflict between Kiev and independence supporters, Russian President Vladimir Putin said Tuesday.
"It is necessary to sit at the negotiations table and to agree, there is no other way," Putin said during a press conference.
Russian President Vladimir Putin also made statement that the European Union and the United States are not making sufficient efforts to pressure Kiev on implementation of Minsk ceasefire agreements.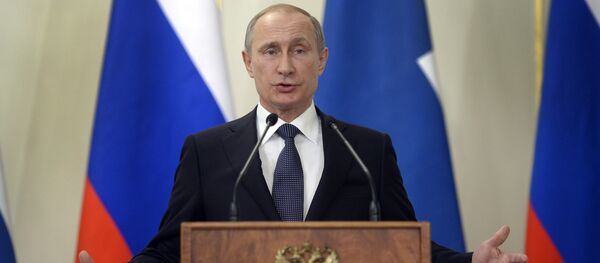 "Let me, speaking in terms of hockey, return you your puck and ask why our colleagues in the European Union and the United States are not exercising enough pressure on Kiev authorities," Putin said, answering a journalist's question on why he does not fully use his influence on independence militias to ensure implementation of ceasefire.
Putin said that Russia is influencing the self-proclaimed Donetsk and Luhansk people's republics, and added they are ready for a dialogue with Kiev on all the provisions of the Minsk deal.
"We find these agreements fair and balanced. And we are influencing one of the sides of this conflict – the people's republics of Donetsk and Luhansk," Putin said.
The Minsk agreements is a set of measures elaborated by the leaders of Russia, Ukraine, France and Germany in mid-February to facilitate the process of Ukrainian reconciliation. The deal signed by Kiev and the pro-independence fighters of Donbas stipulates a ceasefire, the withdrawal of heavy weaponry from the contact line in Ukraine's southeast, an all-for-all prisoner swap and amendments to Ukrainian constitution to grant Donbas regions more autonomy.
After signing the agreement, the sides of the Ukrainian conflict repeatedly accused each other of violating the truce.
The most recent escalation of hostilities in Ukraine took place early in June. Donbas independence supporters accused Kiev of launching an offensive near the city of Marinka in Donetsk Region, while Kiev claimed that the attack was a response to the militia's advances.