Kristian Rouz — Wall Street ended Tuesday's trading with moderate gains despite concerns over Greece, which had provoked some losses earlier. Merger and acquisition activity (M&A) was the principal factor propelling US stocks higher, while the ongoing US Fed policy meeting, which will end Wednesday, produced several market-friendly statements thus far, indicating a potential rally tomorrow.

Wall Street also welcomed positive data on the US housing market for May, arrived Tuesday, which indicate the fastest increase in building permits since 2007. The data suggest more solid support for stocks from the real economy, a foundation for a possible further expansion.
The S&P 500 Index was up 0.57%, or 11.86 points, to 2,096.29, the Dow Jones Industrials Average closed 0.64% higher, or 113.31 points, at 17,890.48. The tech-driven Nasdaq Composite Index rose 0.51%, or 25.58 points, to 5,055.55.
Tuesday's trading opened in the red, as suggested by the tends set overseas on concerns of a possible Greek exit from the Eurozone. However, Wall Street quickly regained ground after Treasury Secretary Jack Lew said the left-wing government of Alexis Tsipras in Athens intends to strike a compromise deal. Lew also warned, however, that a Grexit scenario is still possible and would trigger turmoil in global finance.
Consumer companies led gains on Wall Street amidst the news of several major M&A deals struck today, including the French cosmetics maker Coty purchasing Procter & Gamble's beauty division for $12 bln. Afterwards, P&G closed up 1.3%.
The US-based electronics and software maker NCR Corporation was reported to be in negotiations for a joint bid by Blackstone and Carlyle valued at $10 bln, pushing NCR's stock to its 14-month high, up 10.7%. Shares of Blackstone, though, were 0.6% down at the close, while Carlyle rose 0.8%.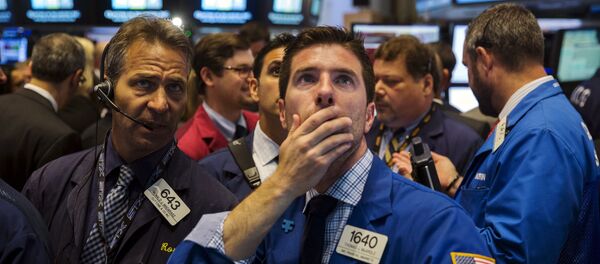 In the real economy, the number of US housing starts and homes under construction fell 11.1% in May to a yearly figure of 1.04 mln, slightly undershooting previous anticipations. But the more important number, the year-on-year building permits issued, was up 11.8% the same month, suggesting a pickup in medium-term demand, and is now at 1.28 mln. The figure is greatest since the earliest stages of the mortgage crisis, August 2007, and is described as 'shockingly large'.
The Fed's policy decisions are expected tomorrow, and although a hike in the base interest rate is unlikely, more clarity in regulatory and monetary policy will promote more corporate activity (while the borrowing costs are still low and profitable), eventually driving stocks higher.
"Rising rates could be a trigger for even more M&A activity," Brian Jacobsen of Menomonee Falls, WI-based Wells Fargo Funds Management said. "They are a signal that now's the time to get the deals done if you are going to do them with cheap financing."
Employment and consumer data improved and industrial output sagged, but home building on the rise; the US Fed chair is expected to signal tomorrow that the long-anticipated rate hike is near, possibly setting exact timing for the move.