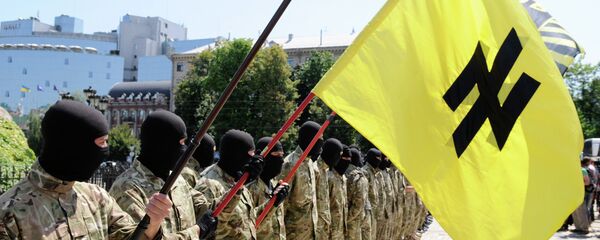 On Thursday, Ukrainian Interior Minister Arsen Avakov told media that he had signed an order dissolving the Tornado Battalion, charging several of its members with criminal activity. On Wednesday, officials from the Interior Ministry and the National Guard were sent to Tornado's base in Severodonetsk, a city in the portion of the Lugansk region under Ukrainian government control, to "provide for the disarmament of these individuals."
Tornado Battalion fighters responded by mining the territory around their base and threatening to open fire on government troops.
Ukraine's Military Prosecutor Anatoly Matios told Ukrainskaya Pravda that the Tornado Batallion forces, numbering about 170 fighters, "mined the perimeter of their base, set up point defense, including automatic grenade launchers across several locations, and factually blocked off the path to the base," mining vehicles and declaring that "they would shoot" if Kiev made "any attempts to resolve the situation by decisive action, or if the investigation committee attempted to enter the base."
Matios told the newspaper that he hopes that Minister of Internal Affairs Avakov will show firmness in disarming the militia, "which has shown its disobedience and refused to obey direct orders." He warned that if fired upon, Ukrainian forces will be forced to return fire.
Ukrainian media reported Wednesday that the Ministry of Internal Affairs had arrested Tornado commander Ruslan Onischenko and seven other fighters from the battalion for violent crimes, including murder, rape, assault, kidnapping and looting, recording much of their gruesome behavior on video.
Asked how the battalion, composed mostly of Donbass ex-cons, had come to be subordinated to the Ukrainian Ministry of Internal affairs, Matios noted that "this will become the subject of investigation during criminal proceedings. Checks must be carried out by the Interior Ministry to find out how recidivist criminals came into positions of leadership and received weapons from the state and the status of police officers, while continuing to commit crimes on the territories they were tasked with patrolling."

Earlier Thursday, Ukrainian Lugansk governor Hennadiy Moskal called on Kiev to disarm the Tornado and Chernigov territorial battalions. "Instead of concentrating their efforts on resisting the enemy, some sections of the Ministry of Internal Affairs have taken the path of crime, attempting to cover it up by posing as fighters against imaginary smuggling. This concerns first and foremost the Tornado and Chernigov battalions."