MOSCOW (Sputnik) — According to the monitor, the shelling targeted government-controlled neighborhoods in the city, as well as the town of Kafar Hamra in the northern countryside of Aleppo.
In earlier shelling by rebels Monday at least 34 people were killed and some 190 injured in Aleppo, according to the SOHR. The attack on civilians was strongly condemned by UN Special Envoy for Syria Staffan de Mistura.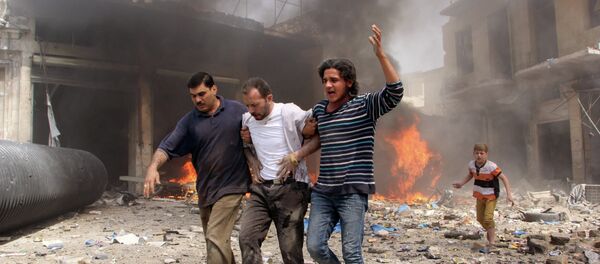 The country has been in a civil war since 2011, when a series of anti-government protests turned into an armed conflict, with government forces fighting several rebel groups.
Aleppo, Syria's largest city, has been the scene of intense fighting for over three years, as armed militant groups try to gain control of the northern part of the country.
Four years of civil war in Syria have led to over 220,000 deaths, and a refugee population of over 11 million, the world's largest, according to the UN.