Fukushima will most probably go down in history as the biggest cover-up of the 21st Century as citizens are not being informed about the actual risks and dangers. The real picture of the seriousness of the situation is being covered up by governments and corporations, according to Robert Hunziker, an environmental journalist.
Tens of thousands of Fukushima residents fled the area after the horrific disaster of March 2011. Some areas on the peripheries of Fukushima have reopened to former residents, but many people are hesitant to return home because of widespread distrust of government claims that it is safe.
One reason for such reluctance has to do with the symptoms of radiation. It is sinister because it cannot be detected by human senses. People are not biologically capable of sensing its effects, according to Dr. Helen Caldicott, as reported by Global Research.
She further added that radiation slowly accumulates over time without showing effects until it is too late.
It was reported by Ben Mirin that bird species around Fukushima are in sharp decline, and it is getting worse over time. Some of the developmental abnormalities of birds include cataracts, tumors, and asymmetries. Birds were spotted with strange white patches on their feathers, Smithsonian reported.
Dr. Helen Caldicott, co-founder of Physicians for Social Responsibility, writes that Fukushima is literally a time bomb in dormancy and right now the situation is totally out of control.
According to Dr. Caldicott, "It's still possible that Tokyo may have to be evacuated, depending upon how things go."
The highest radiation detected in the Tokyo Metro area was in Saitama with cesium radiation levels detected at 919,000 Becquerel (Bq) per square meter, a level almost twice as high as Chernobyl's 'permanent dead zone evacuation limit of 500,000 Bq', media reported.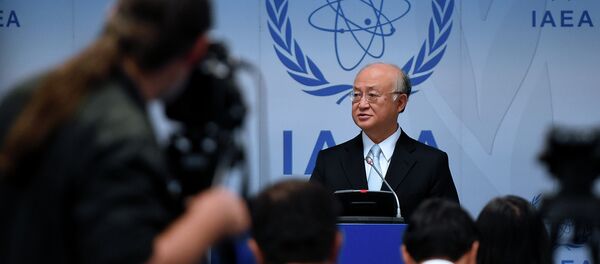 Furthermore, there have been quite a few accidents and problems at the Fukushima plant in the past year causing anxiety and anger among residents there. Earlier it was reported that TEPCO is struggling with an enormous amount of contaminated water which continues to leak into the surrounding soil and sea.
But despite the severity of the Fukushima disaster, US Secretary of State Hillary Clinton signed an agreement with Japan that the US would continue importing Japanese foodstuff. Therefore, Dr. Caldicott suggests that people not vote for Hillary Clinton.
"The US government has come up with a decision at the highest levels of the State Department, as well as other departments who made a decision to downplay Fukushima. In April, the month after the powerful tsunami and earthquake crippled Japan including its nuclear power plant, Hillary Clinton signed a pact with Japan that stated there is no problem with the Japanese food supply and we will continue to buy it. So, we are not sampling food coming in from Japan," Arnie Gundersen, energy advisor told Global Research.
However, unlike the United States, Germany is shutting down all nuclear reactors because of Fukushima. In comparison to the horrible Chernobyl accident, which involved only one reactor, Fukushima has a minimum of three reactors that are emitting dangerous radiation.