The project of the new plane is currently being tested by Russian pilots who are ready to take it aloft.
The MC-21 will replace older Russian airlines, including the Tupolev TU-154 and TU-134. The airliner is capable of transporting between 150 and 230 passengers over 5,000 km (3,105 miles).
The Irkut MC-21 will be the best passenger airliner in the world. First of all, the Russian super airliner can take more passengers on board than its foreign counterparts. For instance, the Airbus A320 can transport 180 people, the Boeing 737 MAX-8 — 189 people, and the Bombardier CS300 can only hold 135 passengers.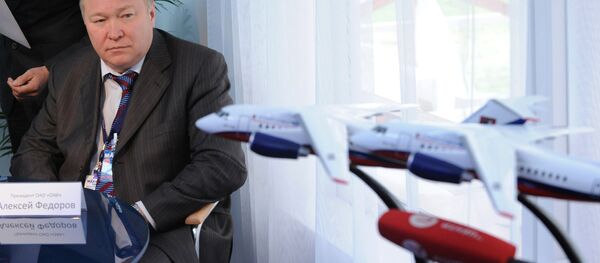 29 January 2015, 15:29 GMT
Second, the MC-21 is cheaper to manufacture. The cost of an Irkut will be $70 million, in contrast with the Airbus A320 — $102.8 million, Boeing 737 MAX-8 — $93.3 million and Bombardier CS300 — $80 million.
Third, the MC-21 will have a wider cabin than an Airbus A320 and a Boeing 737. As a result, two passengers would be able to walk through the aisles without blocking each other.
And finally, the new Irkut airliner will have a head-up display installed in the cockpit to help pilots during landing in adverse weather conditions.
The first MC-21 will go up in the air in 2016. Over the next year, the new plane will get certified and after that the Irkut will be supplied to customers.