The United States will be able to supply gas to Ukraine and other countries of Europe within two years, Senator John McCain said at a press conference in Kiev.
"The United States will supply natural gas to Ukraine and other parts of Europe in two years," John McCain said on Saturday, RIA Novosti reported.
According to him, Europe's dependence on Russian gas supplies is a major obstacle that makes Europe unable to strengthen further sanctions against Russia.
In the first quarter of 2015, Ukraine received Russian gas at a discount of $ 100 per thousand cubic meters, which was provided under the so-called 'winter package' which was agreed in late October 2014, after lengthy negotiations with the European Commission.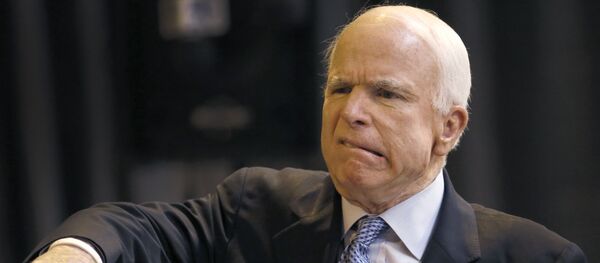 The validity of the 'winter package' expired on March 31, but the Russian government continued providing a similar discount and for the second quarter, thus stating the intention of making a decision about the discount on quarterly basis.
Currently Russia, Ukraine and the European Commission are trying to agree on a draft protocol on Russian gas supplies to Ukraine, which is supposed to cover the entire autumn-winter seasons of 2015-2016.
The document is expected to be signed at the trilateral ministerial meeting on gas, which as stated by the Minister of Energy, Alexander Novak, will be held most likely after June 20.