The Ukrainian Armed Forces have brought new units of Grad multiple rocket launchers to the frontline, DPR military spokesman Eduard Basurin said.
"Reconnaissance troops of the DPR have detected movements of military hardware and personnel of the Ukrainian Armed Forces. For instance, two BM-21 Grad multiple rocket launchers were deployed near the southern-eastern border of Novotroitskoye (near the city of Dokuchaevsk)," according to Basurin.
On June 3, Kiev-led forces resumed fire along all the frontline and shelled several cities.
The Ukrainian General Staff acknowledged they used heavy artillery, which earlier was withdrawn in accordance to the Minsk agreements, against self-defense forces near Donetsk.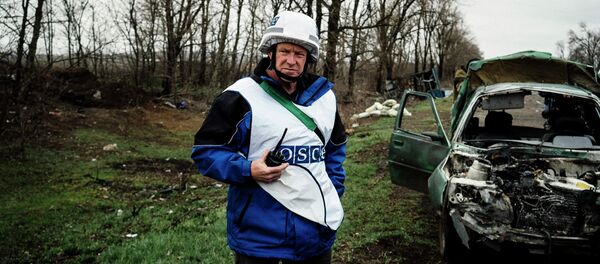 The DPR considers the Kiev actions a breach of the Minsk agreement. Moscow has voiced its concern over provocative actions by the Ukrainian military in Donbass.
On June 12, Kiev announced it again withdrew heavy artillery of caliber of over 100 mm from the contact line.
On June 3, heavy fighting took place between Kiev forces and Donbass militia. According to UN data, 34 were killed. The Ukrainian military accused Donbass independence supporters of the offensive. The DPR, in its turn, rebuffed the accusations calling them speculations.
The two self-proclaimed republics claim that the Ukrainian Armed Forces have been deploying heavy artillery and multiple rocket launchers to the frontline. The DPR and LPR have insisted that Kiev withdraws heavy weapons at a safe distance, in accordance to the Minsk agreements.