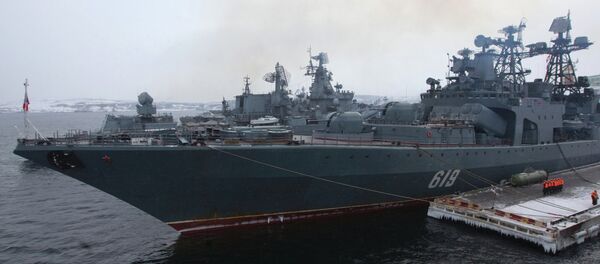 ST. PETERSBURG (Sputnik) — The Russian Navy unveiled Lider's designs at the Army-2015 international military technical forum earlier this week.
According to the description, the vessel will have a displacement of approximately 17,500 tons, with a length of 200 meters and a breadth of 20 meters.
The destroyer may be armed with up to 60 anti-ship cruise missiles, 128 anti-aircraft guided missiles, and 16 anti-ship guided missiles.The vessel may reach a speed of 30 knots and operate to up to 90 days without support.
"We plan to start construction of a Lider destroyer in 2019. We are currently carrying out design work," Chirkov said.
He added that the capabilities of the new destroyers would be comparable with the capabilities of a cruiser.
Russia is currently undergoing a $325-billion rearmament program for a 70-percent increase in its military's modern weaponry by 2020.