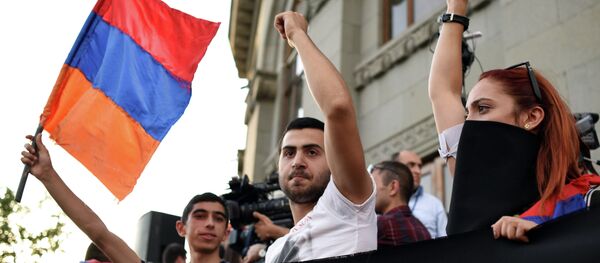 Seven protesters were injured, three of them hospitalized as a result an attempt by police to break up the protest early Tuesday. Eleven police officers also suffered injuries, Armenia Today reported.
Armenian media complained about police organs' use of "brute force and special equipment" in the operation to disperse the crowd, while police stated that they are preparing to charge some of the protesters with hooliganism.
Last week, Electricity Networks of Armenia, the company that owns and manages Armenia's electricity grid, raised electricity prices for households by 17-22 percent. The tariff rise is expected to take effect August 1st.
As a result, some 5,000 protesters organized by the 'No to Plunder' group took to the streets of the city center, chanting "No to robbery!" and "Don't slip your hands into our pockets!"
Armenia, a landlocked country of 3.2 million in the Caucasus Mountains region, which straddles Europe and Asia, has suffered severe economic setbacks due to ongoing international disputes involving its neighbors.