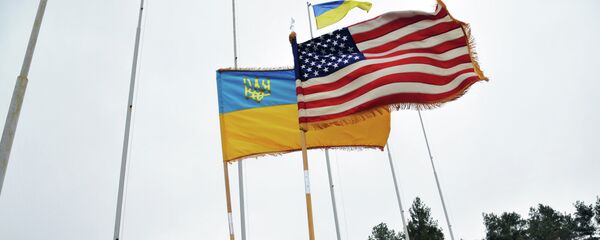 MOSCOW (Sputnik), Yulia Shamporova
–
NATO's eastward expansion in the wake of the Ukrainian crisis over the past year has been a subject of growing concern in Moscow.
"NATO has played a key role in creating and exploiting the crisis in Ukraine in order to extend its military and geopolitical reach to the very borders of Russia," Daniel Jakopovich said.
Jakopovich suggested that NATO and its Western partners, instead of supporting recently adopted measures to cease hostilities and support ongoing resolution of the conflict, are reigniting enmity with Russia.
"Western powers are pouring fuel on the flames of a brutal civil war in Ukraine and lurching towards a new, increasingly intense Cold War with Russia," he told Sputnik.
The month of June, and 2015 in general, has seen an increased number of NATO military drills in Eastern Europe, further contributing to tensions between the military alliance and Russia.
Russian President Vladimir Putin said at an international economic conference last week that NATO members' "euphoria" prompted them to begin "grabbing free space as they saw it."
NATO, the United States and the European Union have accused Russia of actively supporting pro-independence militias in southeast Ukraine's Donbas, allegations that Moscow has repeatedly dismissed. The accusations served as the basis for the alliance's suspension of practical cooperation with Russia in April 2014.
The United Kingdom's expanded role in NATO activities close to Russia's western borders will further escalate tensions between the two countries, the UK's Stop the War Coalition spokesman said.
British Defense Secretary Michael Fallon announced Sunday the country would commit soldiers and fighter jets in NATO missions in Eastern Europe. Fallon said that Britain plans to send 1,000 troops next year, and 2,000 more in 2017, to the region under the auspices of NATO.
"The British government's announcement that it will commit increasing numbers of troops to NATO activities near Russia's borders is a worryingly belligerent response," Daniel Jakopovich said.
The anti-war advocacy group spokesman said he expected the UK decision to further escalate tensions, "dragging Europe and the world closer to a potentially disastrous conflagration."
UK Defense Secretary Fallon said an annual contingent of 1,000 British soldiers would take part in NATO's Eastern Europe missions until at least 2021.
Jakopovich projected that increased involvement by UK troops near Russian borders would have adverse effects.
"Having greatly contributed to the deaths of over a million people in Iraq and in other Middle Eastern countries which it has bombed and invaded, Britain has no right to extend its cynical militarist reach across Eastern Europe," the spokesman told Sputnik.
The North Atlantic Treaty Organization's relations with Russia have deteriorated sharply as the Ukrainian crisis has escalated.
NATO has repeatedly accused Russia of meddling in Ukraine's internal affairs. Russia has denied the allegations, stating that it is not a party to the Ukrainian internal conflict.
NATO has ceased all practical cooperation with Russia and this year capped the Russian delegation in its Brussels headquarters at 30 members.
A number of Eastern European and Baltic states, including Poland, Estonia and Lithuania, seek an increased NATO troop and weaponry presence on their territories.
Moscow views the moves near its western borders as a threat to national security.