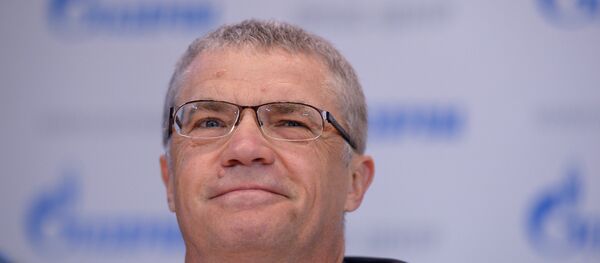 PETROZAVODSK (Sputnik)
–
Russia may discuss opportunities to create infrastructure for Turkish Stream gas with the European Commission when the two sides meet for trilateral Ukraine-Russia-EC gas talks, Russian Energy Minister Alexander Novak said Tuesday.
"We know that different options are being considered, and we are waiting to see what options the European Union will offer for building out its internal gas infrastructure. We hope they will convey they suggestions, it is possible that we will discuss this question during trilateral consultations, but in a bilateral format… Without Ukraine," Novak told reporters.
According to Ukrainian Energy Minister Volodymyr Demchyshyn, trilateral gas talks will take place on a ministerial level on June 29.
The Turkish Stream is a proposed pipeline with an annual capacity of some 63 billion cubic meters. The pipeline will transport Russian gas to Turkey, traversing the Black Sea. It will end in a gas hub on the Turkish-Greek border, from where it is planned to continue to Southern Europe. The hub is expected to receive 47 billion cubic meters of gas annually, according to the Russian energy giant Gazprom.
Gas is expected to start flowing through the Turkish Stream pipeline in December 2016.
On Friday, Russian Energy Minister Alexander Novak and his Greek counterpart Panagiotis Lafazanis signed an agreement on extending the Turkish Stream gas pipeline through Greece.
The memorandum foresees Russia and Greece creating a joint venture on a 50-50 basis to implement the construction of the pipeline on Greek territory. The extension is expected to be constructed by late 2019.