The BBC spokesperson told Sputnik on Tuesday that it did not include ousted Ukrainian President Viktor Yanukovych's views on Crimea's 2014 reunification with Russia because they were not considered "most newsworthy."
The BBC instead featured remarks by Yanukovych on ostriches he maintained in his residence's zoo in his first ever interview to the Western media since the coup which ousted him.
A search on the BBC news website for "Crimea" does not bring up the interview in question, in order to find it one has to search for the word "ostriches."
Yanukovych stated in the interview that residents of Crimea decided to break away from Ukraine and join Russia in March 2014, because they were shocked by the violence of the coup that ousted the former Ukraine president.
"The Maidan scared Crimea and Donbass and the southeast of Ukraine with its right-wing radical outlook. That was the main issue which forced the population of Crimea to build up the units of self-defense and defend themselves. And the Supreme Council of the republic made a decision to hold a referendum," Yanukovych said.
According to the BBC, the former president's views on the reunification of one of his country's regions with Russia was not newsworthy, compared to ostrich-related issues.
"The film which appeared on Newsnight was an edited version of a long interview which focused on Yanukovych's most newsworthy remarks," the spokesperson said.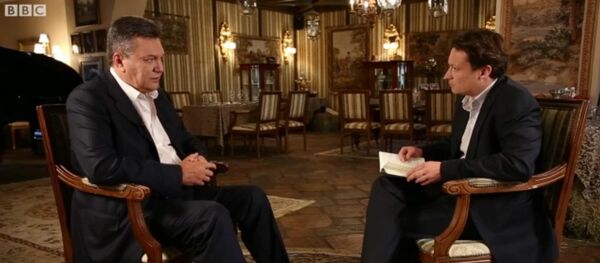 Yanukovych noted in the interview that over 90 percent of Crimean residents voted in favor of becoming part of Russia. The BBC previously called the referendum's results a "foregone conclusion" because of "pro-Russian forces firmly in control of Crimea politically and militarily," rather than popular opinion.
"The results of the Crimea vote have been reported across the BBC since 2014," the spokesperson said.
The ousted Ukrainian president's full remarks were published on the BBC Russian Service website, generally unavailable to Western audiences because of the language barrier.
"BBC Russia colleagues were able to run longer extracts and chose to include the comments about the Crimea vote," the spokesperson said.
The BBC also omitted the part of the interview dealing with the Donbass conflict, in which Yanukovych called Ukraine's armed conflict in Donbass a genocide.