WASHINGTON (Sputnik) — Over the weekend, Barrasso along with Senators John McCain and Tom Cotton held meetings with top Ukrainian officials. According to US media reports, the senators spoke with Ukrainian President Petro Poroshenko and met with Ukrainian troops and volunteers.
"I want to do all I can to make sure that the Ukrainian people get defensive weapons to be able to fight back, and [I am] trying to get more energy supplies to Ukraine in an effort to help the folks, there so they are not held hostage by [Russian President] Vladimir Putin."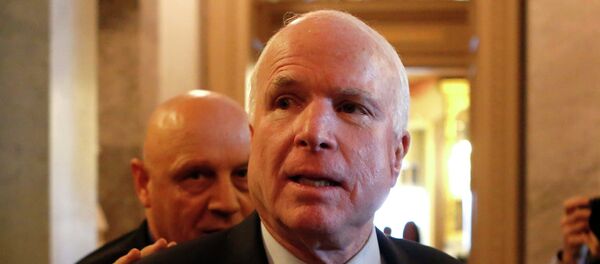 The senator said the main message he took away from meetings in Ukraine is the need to provide the country with military and energy security as they "fight for their continued independence from Russia."
Russia has repeatedly denied allegations that it is meddling in the Ukrainian conflict, and has provided diplomatic and financial support to its neighbor.
Barrasso is one of many US senators pressing the White House to send lethal weapons to Ukraine. He has also sponsored legislation to expedite the shipment of US energy to Ukraine, to decrease its reliance on Russian oil and natural gas.