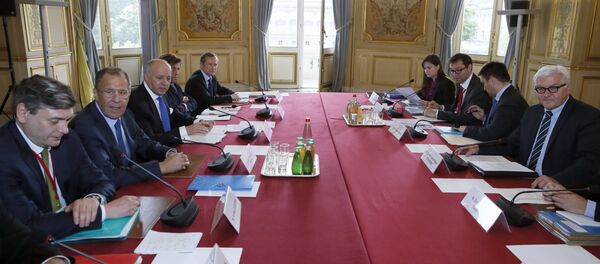 MOSCOW (Sputnik), Yulia Shamporova
–
On Tuesday, the WikiLeaks whistleblowing portal released classified files documenting the wiretapping of phone conversations of former French presidents Jacques Chirac, Nicolas Sarkozy and the incumbent Francois Hollande between 2006 and 2012 by US secret services.
"It is just impossible that in a country like France, the French government did not know about the spying systems used by the Americans. French government knew about the USA spying and tolerated it," de Saint-Just said.
The politician added that many in France might have in fact profited from the eavesdropping.
"I think that there have been a lot of French services and journalists that collect this information. Obviously, they maybe did not know about the fact that the Americans used this situation very professionally in order to spy on the French president and prime minister," de Saint-Just argued.
Earlier on Wednesday, French President Francois Hollande held an emergency meeting with the French Defense Council to take stock of the latest revelations. The Elysee Palace later issued a statement, calling the WikiLeaks revelations "unacceptable."
Over the past years, documents leaked by former NSA contractor Edward Snowden revealed facts of US eavesdropping on many world leaders, as well as on millions of American citizens.