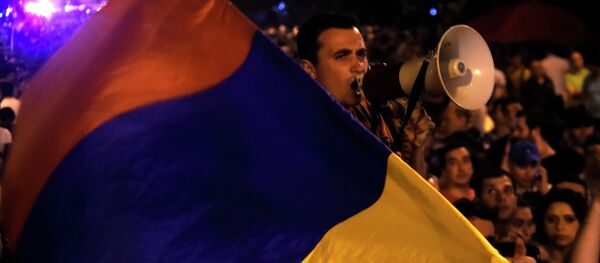 YEREVAN (Sputnik)
–
On June 17, Armenian authorities announced a 16.7-percent increase in household electricity tariffs, effective from August 1. Two days later, mass protests against the rate hike began in the Armenian capital of Yerevan, with thousands of protesters marching to the presidential residence on Monday and Tuesday.
"I should note that the increase in tariffs has its objective reasons" Abrahamyan said, addressing the government, as quoted by Armenian ARKA news agency.
The prime minister cited the Electric Networks of Armenia (ENA) company's inability to produce enough energy due to a dry year, an 80-day stoppage of Armenian's nuclear power plant due to repair works, and a 20-percent devaluation of the national currency over the past three years as the factors behind the price increase.
Regardless of abuse that has been recorded in the ENA company, none of the losses due to corruption affected the calculation of the new tariff, Abrahamyan stressed.
The crowd of protesters was dispersed by police on Tuesday. Almost 240 people, including journalists, were taken to police stations, while 25 sought medical assistance. According to city officials, all those detained were subsequently freed.