A Greek government official said that Athens remains "steadfast in support of the proposals" which the country had made earlier in the week. Negotiations, however, are stuck.  
Meanwhile, sources suggest that the Greek Finance Minister Yanis Varoufakis recently claimed that that the country would trade in bitcoins if final negotiations fail.
But is the "crypto-currency" the answer to economic worry?
According to the Greek Reporter, Varoufakis once said in a secret meeting: "We've had enough, we'll run Bitcoin."
An anonymous source told the Greek Reporter that "everybody in the room was staring at each other" when Varoufakis said:
"We'll go to Bitcoin, we will be ahead of the all the world economies and although it may be painful in the beginning, Greece's economy will thrive in the long term."
"This is the smartest move to beat corruption and tax evasion, all transactions will be recorded to the Greek Ministry of Finance new secure and dedicated Bitcoin servers and we'll be able to track transactions at any given moment," said Varoufakis.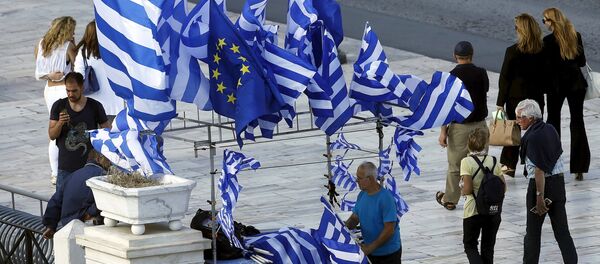 The Greek Financial Mininster also suggested in his blog that "the technology of Bitcoin, if suitably adapted, can be employed profitably in the Eurozone as a weapon against deflation and a means of providing much needed leeway to fiscally stressed member states."
However, an anonymous Dutch bank employee has recently revealed that major European Union banks are applying new rules, forcing banks to report, monitor or investigate accounts receiving or sending over $1,119 (€1,000) connected to bitcoin.
In a discussion under /r/DarkNetMarkets on the Reddit forum, the whistleblower says he is a bank employee with the Dutch banking system and reveals that he had seen a memo instructing bank employees "to report anyone that receives more than €1,000 linked to Bitcoin transactions."
"The report states that 84 accounts in our country have been flagged, and from these 84 flags 52 are under surveillance/investigation. I am not sure if this is connected to the Darknet, but I am quite sure that no vendor wants to have their business investigated. Before this report we where [were] only required to report deposits above €10,500 within a year."
"So them moving it down all the way to €1k is quite troubling in my eyes. I cannot tell you which country this is, but the report attached comes from Europol…so I am assuming it is EU wide."
The Dutch bank whistleblower later posted a message on the forum saying staff had also received a list of IBAN accounts, "which belong to high volume traders and exchanges."
"We have to flag any of these if the transfers are above 1K [euros] and report them to the financial institution. We also have to flag accounts who have received more than 10500 EUR/yr (outside of salary), and inform them [the authorities] if we [bank employees] suspect these funds to originate from Bitcoin exchanges," the whistleblower said.
A report by Finance Intelligence Unit Netherlands also cited by the whistleblower, explains why people are being monitored:
"The Bitcoin is a digital currency that is created by a computer formula and which is subject to violent fluctuations. The government will not regulate on this digital currency instead.
"The Bitcoin is used by technology fans and speculators, but also by criminals who use digital currency for illicit origin of funds to shield criminal [activity] and to apply [a] white wash."
Crypto-Currency & Economic Woes 
But the request for bank staff to flag up big Bitcoin transactions is thought to have come from a European Union directive aimed at "the prevention of the use of the financial system for the purpose of money laundering and terrorist financing" stipulates that:
"Member States shall apply a maximum threshold per customer and single transaction, whether the transaction is carried out in a single operation or in several operations which appear to be linked. That threshold shall be established at national level, depending on the type of financial activity.
"It shall be sufficiently low in order to ensure that the types of transactions in question are an impractical and inefficient method for laundering money or for terrorist financing, and shall not exceed EUR 1,000."
Greece and the Troika still haven't agreed a deal to unlock bailout money to prevent the country from going bust. Athens must pay the International Monetary Fund (IMF) $1.8 billion (€1.6 bn) on Tuesday — money the country doesn't have — and it appears 'crypto-currency' won't fix their economic woes either.