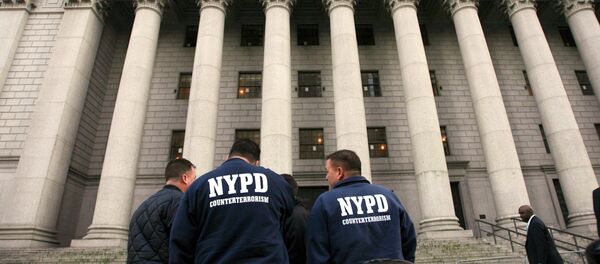 MOSCOW (Sputnik)
–
The Wall Street Journal (WSJ) said the decision to temporarily stop administering tests, effective from July, came after a survey conducted earlier this year uncovered flaws in the police force's recruitment system. Nearly half of the 1,200 former recruits surveyed said they had chosen other career paths after waiting for up to four years to be invited to formally apply to the NYPD.
"We know our system's broken, and we [are] going to fix our system," NYPD deputy commissioner for personnel, Michael Julien, was quoted as saying by the WSJ on Thursday.
The move also coincides with attempts by the NYPD to resolve the imbalance in the department's racial makeup in the wake of successive incidents involving the deaths of unarmed black civilians at the hands of white police officers.
The WSJ cites an unnamed NYPD official as estimating that black officers make up only 15 percent of the department's 34,600-strong force.
Data from the US Census Bureau for 2013 shows that 23 percent of New York City's nearly 8.5 million residents identify themselves as African-American.