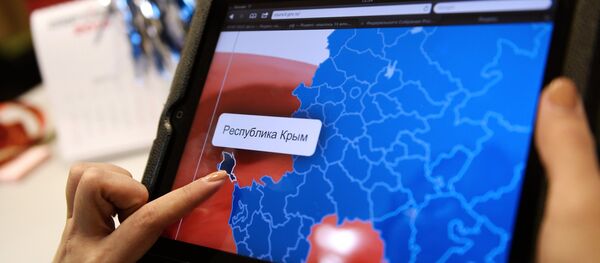 "Neither the Constitution of the RSFSR nor the USSR Constitution authorized the Presidiums of the Supreme Soviets of the RSFSR and the USSR to change the legal status of any autonomous republics within the constituent republics of the Soviet Union," Deputy Prosecutor General Sabir Kekhlerov said in a response to an official request submitted by the Just Russia Party chairman Sergei Mironov.
In February 1954, the Presidium of the USSR Supreme Soviet issued a decree transferring the Crimean region from the Russian Soviet Federative Socialist Republic to the Ukrainian SSR as a "symbolic gesture," marking the 300th anniversary of Ukraine becoming a part of the Russian Empire.
According to the Soviet Constitution the borders of a republic within the Soviet Union could not be redrawn without the agreement of the republic in question.
The matter should have been submitted to an open discussion by the Supreme Council of the Russian SSR. Moreover, a referendum should have been conducted to find out the opinion of the residents of the two republics.
Nothing of that happened. The Presidium of the Supreme Council gathered for a session on February 19, 1954 — only 13 of 27 members were present.
There was no quorum, but the decision was adopted unanimously.
In a region-wide referendum on the peninsula's future held on March 16, 2014, almost 97 percent of Crimean residents supported reunification with Russia.
On March 17, the Supreme Council of Crimea adopted a resolution on Crimea's independence from Ukraine based on the referendum's results. The parliament also addressed Russia with a proposal to incorporate Crimea into the Russian Federation as a constituent entity.