These semi-organized militia groups fighting on the side of Kiev have one thing in common — extreme nationalism. Some groups, like the Azov battalion and the Right Sector openly practice their neo-Nazi ideology, the newspaper said.
"The government [in Kiev] can criticize us as much as it wants to, but it needs the Dnepr-1 [battalion] and the Right Sector… the Ukrainian army cannot defend the country alone," said Konstantin, one of the militants fighting in Donbass, as cited by Le Temps.
The integration of extreme right-wing groups and the Ukrainian Army is going full speed. The Right Sector supports the army, while the Azov battalion receives its orders directly from the Ministry of Defense. All nationalist groups receive orders from the headquarters in Kramatorsk, the newspaper reported.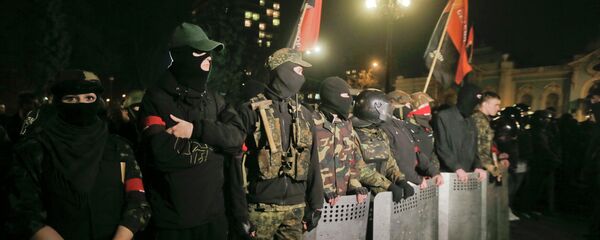 Last month, Dmitry Yarosh, the leader of the Right Sector, reached an agreement on joint actions at "foreign and domestic fronts" with Nikolai Kokhanivsky, commander of the volunteer battalion of the Organization of Ukrainian Nationalist (OUN).
The nationalists plan on organizing a rally in Kiev on July 3, demanding the Ukrainian government to resume offensive in Donbass disregarding the Minsk agreements.
The Right Sector was formed as a coalition of nationalist and neo-Nazi organizations during the Maidan protests in Kiev at the end of 2013.
In November 2014, Russia's Supreme Court blacklisted Right Sector and the Ukrainian Insurgent Army (a separate militant wing of OUN) as an extremist organization and banned it in Russia. Earlier, Russia launched a criminal case against Yarosh for public incitement of terrorism.