Speaking before the conference, Merkel stressed that Russia and Germany should use each and every opportunity to re-establish a direct dialogue.
"2015 is marked by a serious examination in the relations between Germany and Russia. First of all, the situation in Ukraine led to significant differences [in opinion]. This is why it is essential to use every opportunity to establish an open dialogue," the German Chancellor said.
The conference of Russian and German sister cities is taking place in the city of Karlsruhe in southwest Germany. The event brings together over 400 representatives from Russian and German cities and public organizations.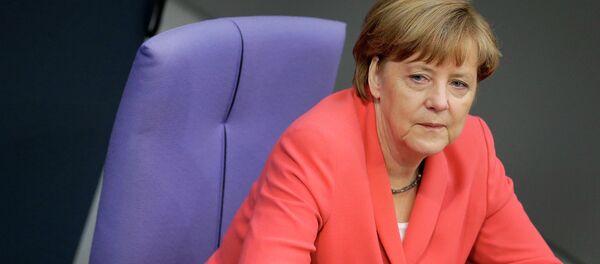 During the conference, meetings of the five working groups will be held, which open up new landscapes for exchange of experience, including economic cooperation, local self-governance, vocational training, social and historical activities.
Earlier, activists of a German peace initiative appealed to German Chancellor for the peaceful resolution of the Ukrainian conflict and an organization of a multilateral conference with Russia's participation to discuss possible way outs.
Members of the German peace initiative Bad Tolz-Wolfratshausen wrote a letter to German Chancellor Angela Merkel to express their concerns about the situation in Ukraine and promote peaceful resolution of the crisis, Sueddeutsche Zeitung wrote.
The activists called for the military disarmament and organization of a European peace conference involving the United States and Russia, taking into account increasing tensions between NATO and Russia.
The escalation of the ongoing Ukrainian conflict, further anti-Russian sanctions, US weapons supplies to Ukraine as well as the increase of NATO forces from 13,000 to 40,000 soldiers are the main factors driving German citizens in appeals of that kind.