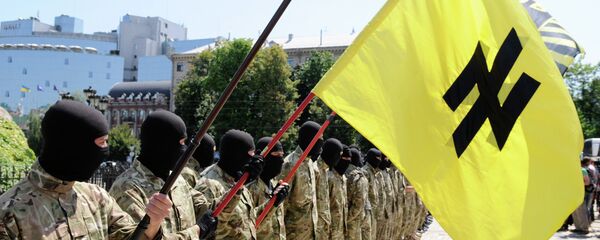 "Not long ago we were in Sarny, a small town in western Ukraine, where we found a whole 1,200 152mm howitzers, over 500 Rapier anti-tank guns and lots of ammunition, all in perfect order, waiting to be sold to the highest bidder instead of being sent to the frontlines," said Andriy Biletsky, the onetime commander of the notorious Azov voluntary battalion.
"There is one little catch here though – all these new cannons have long been written off as scrap metal and are waiting to be sold to Africa, China, Latin America, anywhere," he added.
After he was elected to parliament, Andriy Biletsky gave up his position as Azov commander, but, unofficially, he still remains in control of the unit.
The Azov battalion is a far-right neo-Nazi all-volunteer paramilitary militia formed a year ago as part of the military reserve of the National Guard of Ukraine. The official Azov emblem is the Wolfsangel ("wolf-anchor").
During World War II, the symbol and its elements were used by various Nazi German military units, including the SS Panzer Division "Das Reich".