PARIS (Sputnik) – Hollande said in a televised address after an extraordinary ministerial meeting on the Greek financial situation:
"Greece decided to halt the negotiations that lasted weeks… I hope that the talks may continue. There is still a possibility of reaching an agreement."
Paris is still ready to discuss the situation, the French president said.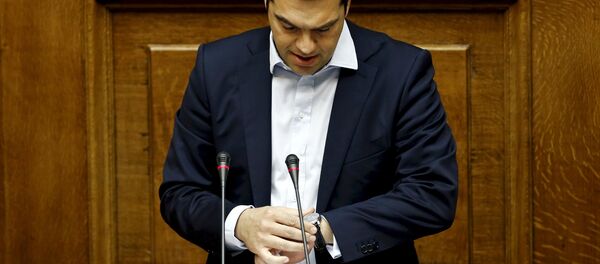 Greece has been in talks with its international lenders for the past several months over a bailout deal, as the country was plunged in multibillion debt following the 2008-2009 economic crisis. The latest round of negotiations collapsed on Saturday.
The Eurogroup blamed Greece for breaking off talks after Athens announced a July 5 referendum for voters to decide whether to accept the new bailout deal offered by the lenders.
The current Greek bailout program expires Tuesday. The same day, Greece must deliver the next $1.7-billion payment to one of its major creditors, the International Monetary Fund (IMF). If the talks fail to reach a deal, Greece may default and be forced to exit the eurozone.