Tension regarding the Greek default is at its highest. Brussels has suggested that Greece cut pensions, raise taxes and tighten its belt to make ends meet.
However, Greek Finance Minister Yanis Varoufakis recalled that Greece has made its proposals to creditors, and currently is waiting for the EU to show its "goodwill". He also stressed that the Greek side has already placed all its ideas on the negotiating table and that it is not planning to submit any new offers.
As the debate continues, Spanish media outlet El Economista highlights another much more important element in the situation. The constant attention the Greek debt issue has received on a global scale has conveniently hid another major problem in Europe, reports the Spanish portal.
"Greece is a small country with a population of 10 million. But the attention that has been riveted upon Greece seems like the country is a huge state — the protagonist of a multiethnic territory of over 320 million inhabitants. Focusing so intently on the debate of Greek debt is a global error. It also seems a deliberate one. Italy and France (more than 126 million people) — that's what creates a real threat to the stability of the Eurozone," El Economista reported.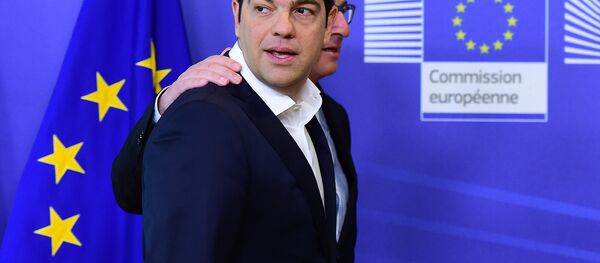 This idea was first expressed by Satygitom Das (author of the book 'Traders, Guns and Money'). Das in his column for the Financial Times remarked, "Italy and France are the creators of the debt avalanche, the mountain looming over the EU. Both countries are characterized by weak progress in the economy, rising unemployment and an increase in the number of poor."
Italy's debt now accounts for 259% of its GDP and France's is already at 280%, with Italy's budget deficit at 3% and France's at 4.2%.
Moreover, France has not recorded the data of its expenditure and revenue since 1974.
"The almost indiscernible GDP growth, rapidly progressive impoverishment of the people, the depletion of social funds, lack of competitiveness and a complete inability to carry out the necessary reforms — that list is just a few problems that are present in these two countries today, with no reforms for solving the problem anywhere in sight. It is easier to hide by changing the public's attention to some other object," El Economista wrote.
Greece on the other hand is suffering greatly with the prospect of a default creeping ever closer. But it does appear that Greece is not the reason for the EU's troubles.