VIENNA (Sputnik), Daria Chernyshova, Anastasia Levchenko —The UN Security Council may convene to discuss adoption of the resolution on Iran's nuclear program as early as in July, before the coming session of the General Assembly, a diplomatic source told Sputnik Monday.
"I think so, yes," a source at the nuclear talks on Iran told Sputnik answering the question whether the Security Council may convene to discuss the resolution on Iran before the session of the UN General Assembly in August.
"Hopefully [UNSC will convene] before," he added.
The source also said "there will be one [SC resolution] if there is a deal."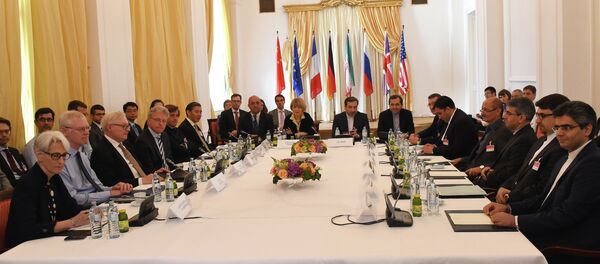 He noted that the P5+1 negotiators have reached an agreement within the group.
"In the group of six [P5+1] we pretty much agree. We just need to convince the Iranians," the source said.
The West has long accused Tehran of developing nuclear weaponry under the guise of a peaceful nuclear energy program. Since 2006, the UN Security Council has adopted several resolutions on Iran's nuclear program, four of which imposed sanctions against the country.
Iran and the P5+1 group of international mediators, comprising Russia, the United States, China, France, the United Kingdom and Germany, have until Tuesday to reach a final deal that will secure the peaceful nature of Tehran's nuclear activities in exchange for the easing of Western sanctions against the country.
The sides elaborated a political framework for the deal in April.