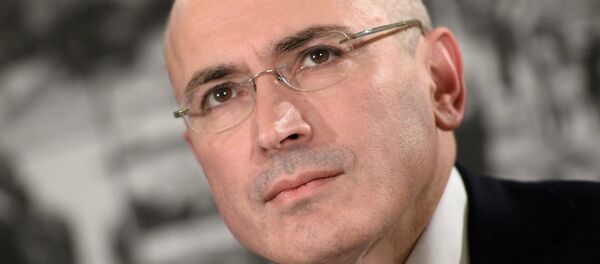 18 December 2014, 11:57 GMT
MOSCOW (Sputnik) — Former head of the now defunct Yukos energy company Mikhail Khodorkovsky may have hired a hitman for the 1998 murder of Nefteyugansk mayor Vladimir Petukhov, the Russian Investigative Committee said Tuesday.
"According to information obtained by the investigative committee, head of Yukos Mikhail Khodorkovsky could have ordered this murder and a number of other serious crimes," committee spokesman Vladimir Markin said.
The committee is set to question people suspected of involvement in these crimes, including Khodorkovsky, he added. "I don't think his absence from Russia will be an insurmountable obstacle to carry out all necessary investigative actions."
Khodorkovsky's lawyer Vadim Klyuvgant told RIA Novosti that the Investigative Committee's version was a "fantasy," commenting on the news.
Arrested on October 25, 2003 Khodorkovsky spent 10 years in prison for fraud and tax evasion before being pardoned.
Following his release, Khodorkovsky was issued a three-month Schengen visa by Switzerland, and later a residence permit. The former energy magnate relaunched his "OPEN RUSSIA" foundation to encourage political reforms in Russia.
Nefteyugansk mayor Vladimir Petukhov was killed in 1998. Yukos former security head Alexei Pichugin was convicted of having planned the mayor's murder, as well as the attempted assassination of a Khodorkovsky adviser the same year.