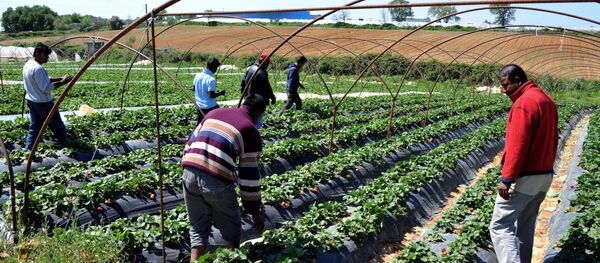 MOSCOW (Sputnik) — There is no food deficit in Greece, and prices are stable despite the country's current financial struggles, the Ministry of Economy, Infrastructure, Shipping and Tourism told RIA Novosti.
According to the media outlet, the demand for food and other products has increased dramatically. Top representatives from the Economy Ministry convened with the head of the Greek Food Industry Association to discuss the current situation.
"The general opinion was that there was enough food on the market, the prices remain at their usual level, and any discernible problems could be solved," the ministry told RIA Novosti.
Tuesday was the final day for Greece and its international creditors to reach a new bailout deal in exchange for austerity reforms. The country also missed its deadline for a $1.7 billion loan repayment to the International Monetary Fund.
Athens announced a July 5 referendum to ask voters to decide whether to accept the new bailout deal offered by the country's international lenders. On Sunday, the Greek government shut down local banks and introduced restrictions on certain transactions.
If the country is unable to reach a deal with its creditors, it may be forced to leave the eurozone.