Merkel's former Head of the Chancellery Ronald Pofalla and current Chancellery intelligence chief Gunter Heib are due to appear before Bundestag parliamentary panel looking into data allegedly shared between the German intelligence agency BND and the US' NSA.
#BREAKING Merkel office summons US envoy over spy reports: govt source

— Agence France-Presse (@AFP) July 2, 2015
The German leader is hoping to distance herself from the spying scandal after it was alleged she knew about her own government's co-operation with the NSA, despite publicly criticizing it. 
She has already started an independent inquiry under leading judge Kurt Graulich, who will scrutinize a list of targets handed to German spies by the US, but the question of how much she personally knew about it still remains unanswered.
Merkel gained popular support for complaining bitterly to US President Obama when it was alleged the NSA had bugged her mobile phone and launched a very public campaign against mass surveillance. However, it has now emerged her government — and, by implication Merkel herself — must have known about the US-German program, despite her government initially denying it.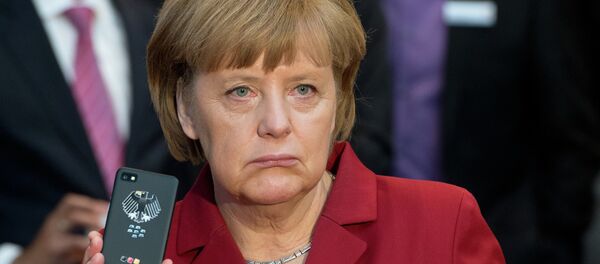 It was alleged that the BND assisted the NSA to conduct intelligence surveillance on top officials at the French Foreign Ministry, the Elysee Palace and the European Commission. The revelations came on the back of the German Government being accused of lying to its parliament, the Bundestag, when it denied any knowledge of such collusion involving surveillance of European politicians and commercial companies, including Airbus.
Government Denies Collusion
In an official government statement to the Bundestag on April 14, the Interior Ministry said: "We have no knowledge of alleged economic espionage by the NSA or other US agencies in other countries."
Personally I don't mind the NSA bugging Hollande, Merkel etc — that should be their job — I mind them spying on all of *us*.

— Paul Bernal (@PaulbernalUK) June 24, 2015
However, WikiLeaks, in May, released papers showing that the Germany Chancellory — Merkel's department — had written a letter directly to Kai-Uwe Ricke, who was the CEO of the German communications company Deutsche Telekom AG from 2002 to 2006. 
The letter called on the assistance of Deutsche Telekom to facilitate the continuous mass surveillance of German and international Internet and telecommunications data at Deutsche Telekom's Frankfurt exchange point. This operation, codenamed "Eikonal", saw these intercepts then pass from the BND to the NSA. The letter was addressed to Ricke and marked to be read by him personally. In the inquiry Ricke claimed he had never seen such a letter. After this letter was sent, the request to allow the BND access was granted.
Pressure is growing on Merkel to declare how much she knew about what her own department was up to.