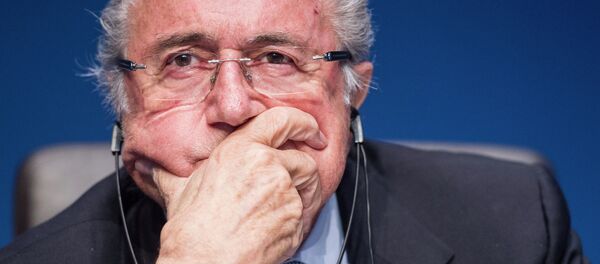 MOSCOW (Sputnik)
–
The United States has submitted formal extradition requests for seven high-ranking FIFA officials who were arrested in Zurich in May on suspicion of corruption, Swiss Federal Office of Justice (FOJ) said Thursday.
"On 1st July 2015, the US embassy in Bern submitted the formal extradition requests within the deadline laid down in the bilateral extradition treaty. The requests are based on the arrest warrants issued on 20 May 2015 by the United States Attorney's Office for the Eastern District of New York, which is investigating the high-ranking FIFA officers on suspicion of taking bribes worth over 100 million dollars," the FOJ said.
In May, Switzerland opened a probe into alleged criminal mismanagement and money laundering, followed by the arrests of seven high-ranking FIFA officials during a dawn raid on a Zurich hotel days before a FIFA congress. The accusations against the officials include fraud, racketeering, money laundering, as well as corruption in marketing and broadcasting deals over the last 20 years.
The United States issued extradition requests as the bribes are suspected to be related to, among others, football tournaments in the United States, coupled with the fact that the US financial system was allegedly used to make, transfer and invest some of the bribes.
"Drawing on the request, the hearings and the responses of the persons concerned, the FOJ will then rule on extradition within a few weeks," the FOJ statement reads.
After the FOJ's extradition ruling, the officials may ultimately appeal to the Swiss Federal Criminal Court, as well as to the Federal Supreme Court.