Russia will be hosting the upcoming BRICS and SCO Summits in Ufa next week, and it's a good time to reflect on these multipolar institutions and their origins. Such a location couldn't be more fitting for the back-to-back events, since it was Russia under the lead of former Foreign Minister Yevgeny Primakov that took the first steps in creating the precursor to these organizations. Although he sadly won't see his country historically host both of the institutions that he himself helped create, Primakov can rest in peace knowing that his legacy lives on in the multipolar world that's irreversibly being formed today.
Pre-Primakov
The four-year period of global history between the dissolution of the Soviet Union in late-1991 and Primakov's appointment as Russian Foreign Minister at the beginning of 1996 was one of rampant unipolarity and the spreading of American influence worldwide. Let's take a look at three things that helped facilitate it:
His Predecessor:
Andrei Kozyrev began his service as Russia's Foreign Minister in October 1990, and until the time that Primakov replaced him, he essentially served as the State Department's "yes man" in Moscow.  Kozyrev was one of Russia's "Westernizers" who blindly believed that his country had no choice but to listen to the US and its foreign policy 'guidance'. He was firmly convinced that no independent alternative existed, and that Russia's interests would best be served by accepting its subordinate status. The clearest evidence of this policy in action is Kozyrev's support of the 1991 War on Iraq (formerly a close Soviet ally) and NATO's out-of-theater sea and air intervention in the Bosnian Civil War that began in 1992.
Primacy Expanded: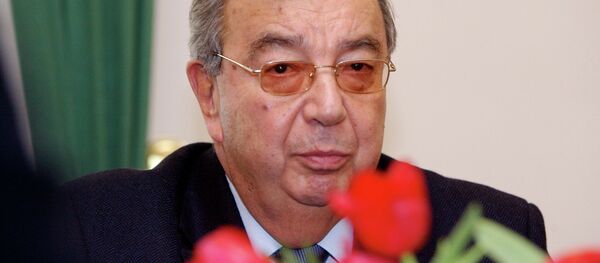 Kozyrev truly believed in the benefits of unipolarity and Russia's second-class status in an American-dominated world, so he didn't object to the US' 'humanitarian interventions' in Haiti and Somalia. Together with the one in Bosnia, the US would later use these 'humanitarian pretexts' to 'legitimize' its 1999
War on Yugoslavia
and the 2011 War on Libya. Worse still, Kozyrev's Foreign Ministry ignored the expansion of US military bases into formerly inaccessible areas recently opened up by the end of the Cold War. The end result of such neglect is that
tens of thousands of US troops are now based in 74 countries
all across the world.  
Power In All Spectrums:
American military might wasn't the only thing that reached global proportions by the end of Kozyrev's tenure, as its economic reach came to encompass the entire world. Neo-liberal economics became so widespread that no one even questioned it any longer, taking it as a given characteristic of the modern world. It seemed like there wasn't a country left (except the 'rogue states') that didn't have an American-based transnational corporation operating within it. As such, the dollar became the de-facto global currency, and soft power followed in the footsteps of finance and won billions of adherents to the American cause. US information outlets and their affiliate partners quickly gained control of the global narrative and worked to reinforce pro-American messages that penetrated every medium. Everywhere one looked, the US appeared to be number one, and nobody was 'insane' enough to question it…until Primakov.
Preparing Multipolarity
Primakov wasn't a conventional diplomat in any way, having actually built his prior career as an Orientalist, journalist, and academic. In fact, he didn't even enter the political realm until 1989 when he became the Chairman of the Soviet Union at the age of 60. He then served a brief stint as a special envoy to Iraq before leading the KGB and its international successor, the SVR. By the time he became Foreign Minister in 1996, he had already built his own understanding of the world and was immunized from the pro-American "Westernizing" zeitgeist that pervaded Kozyrev's Ministry. As soon as he became Russia's top diplomat, Primakov set about reversing the failed foreign policy trajectory of his predecessor and began looking to the East for assistance.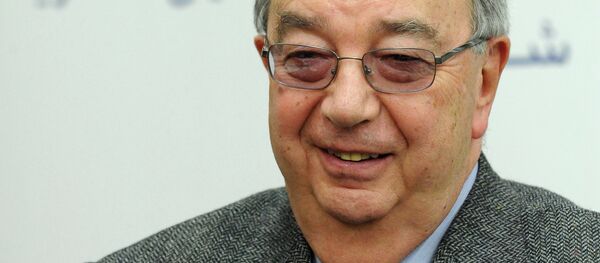 One of the first things that happened under Primakov's oversight was the creation of the Shanghai Five on 26 April, 1996, just a few months after he assumed office. This grouping was based off of the positive working relationship that Russia, Kazakhstan, Kyrgyzstan, and Tajikistan had developed with China in delineating their shared border, and being the Orientalist that he was, Primakov saw a prime opportunity for Russia and its Central Asian allies to capitalize off of the positive momentum with the world's largest country and institutionalize their dialogue format. The inauguration of the Shanghai Five was also the first time that Russia and China referred to their bilateral relations as a strategic partnership, and one year later, they issued a
Joint Declaration on a Multipolar World and the Establishment of a New International Order
, something that would have been an unthinkable ideological blasphemy under Kozyrev's rigid rule. 
Primakov's foreign policy flexibility attracted him to the idea of rejuvenating the historical Russian-Indian friendship, which had unfortunately suffered immensely during Kozyrev's pro-Western obsession over the five years prior. The Russian Foreign Minister and his Indian counterpart recognized the ridiculousness of throwing away decades of carefully built relations simply due to one man's radical ideological convictions, and they quickly got to work in repairing the damage that Kozyrev's earlier neglect had inflicted on bilateral ties. Primakov took it one step further, however, by proposing that Russia, India, and China work together in building the multipolar world. In retrospect, foreign policy scholars have termed Primakov's strategy as Great Power Balancing, and current Foreign Minister Sergei Lavrov said last October that one could even call it the Primakov Doctrine, the time when "Russia left the path our Western partners had tried to make it follow after the breakup of the Soviet Union and embarked on a track of its own". 
Post-Primakov
Nearly two decades after Primakov assumed stewardship of Russia's foreign policy, his ambitious multipolar vision has become a reality, defying those who believed that American unipolarity was an indefinite inevitability.  Here are the three most important legacies that Primakov leaves behind:
BRICS:
The Russia-India-China trilateral partnership and the trust developed therein formed the institutional basis for the BRICS organization. Goldman Sachs, popularly attributed with 'creating' BRIC, simply coined a moniker to describe what Primakov had already built, and in fact, actually motivated the existing members to reach out to Brazil and include it in their existing format. Over a decade since its 'official' inception, BRIC has expanded to South Africa, launched a $100 billion New Development Bank and an equally large currency reserve pool, and have become a global force for de-dollarization.
SCO:
The Shanghai Five incorporated Uzbekistan in 2001 and became the Shanghai Cooperation Organization, initially dedicated towards defending against the dangers of separatism, terrorism, and extremism. It's since evolved into an economic and strategic integrational platform between its members, and has notably attracted the interest of India and Pakistan, both of which are expected to formally join next week. Considering the observer status of Iran and the dialogue partner relationship with Turkey, among others, it's fair to say that the SCO might be turning into a concert of Great Eurasian Powers sometime in the near future.
Confidence:
Last but not least, Primakov gave confidence to all of those who believed that an alternative, non-American-dominated world was possible even when 'conventional wisdom' (i.e. globally dominating American news agencies) said it wasn't. He not only inspired Russians, but through his initiatives in crafting the precursors to BRICS and the SCO, he showed all of the non-West that multipolarity was indeed doable, and that all they had to do was take tangible steps together to achieve it.   
The views expressed in this article are solely those of the author and do not necessarily reflect the official position of Sputnik.