YEREVAN (Sputnik) – Participants in the protest against power tariff hikes in Armenia's capital Yerevan have demanded that one of the people present at the rally put down a raised flag of the European Union, a RIA Novosti correspondent reports.
"This is a mistake, we do not want our protest to be associated with politics or any kind of external influence, for example, from the EU," a protester told the correspondent late on Thursday.
The flag was put down after several of the protesters gathered for the Yerevan rally shouted for it to be removed.
Most of the rally participants headed home in the early hours of Friday, however, several dozen people remained in the Marshal Baghramyan Avenue, according to the RIA Novosti correspondent.
On June 17, Armenian authorities announced a 16.7-percent increase in household electricity tariffs in the country, which would come into force on August 1. Two days later, mass protests against the rate hike began in Yerevan, with activists blocking the Baghramyan Avenue and later attempting to march to the presidential residence, a move that was blocked by law enforcement.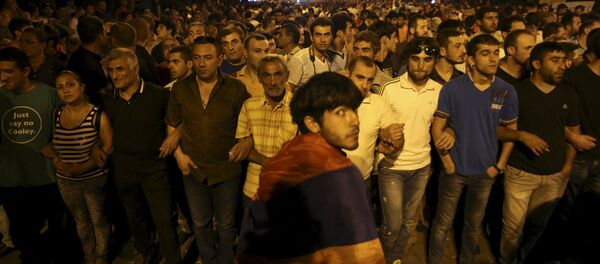 On Sunday, the rally split into two groups. The majority continued to block the main avenue in the Yerevan government district, while the rest moved to a square nearby to stage a sit-in.
The sit-in ended early Tuesday, with activists saying they were going to draft a plan on how to avoid the government-proposed hike in power fees.
The protesters demand that Armenian authorities put on hold the decision on raising the household electricity tariffs, start talks on the lowering of the tariffs with activists and hold accountable the police officers who have used force against activists and journalists during the demonstrations in Yerevan.
Armenian President Serzh Sargsyan said over the weekend that he was ready to meet with a group of protesters to discuss a possible resolution of the conflict, adding that the government could partially cover expenses linked to the tariff increase for a limited time period.