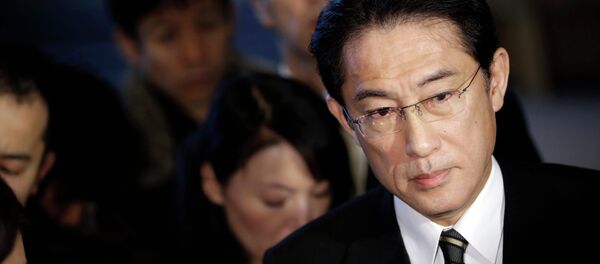 TOKYO (Sputnik)
–
The visit of Japanese Foreign Minister Fumio Kishida to Russia's capital of Moscow may take place on August 31 – September 1, a source familiar with the matter said Friday.
"As of today, the visit may take place on August 31 – September 1," the source told RIA Novosti.
Earlier on Friday, Director-General of European Affairs Bureau of Foreign Ministry of Japan Hajime Hayashi came to Moscow to organize the visit of Kishida. He also had a meeting with Director of the Third Asian Department of the Ministry of Foreign Affairs of Russia, Lyudmila Vorobyeva.
The visit of the Japanese foreign minister to Moscow was scheduled to take place in the spring of 2014 but was postponed amid the escalation of tensions in Ukraine. Japan is one of the countries that have imposed anti-Russia sanctions, citing Moscow's alleged involvement in the Ukrainian crisis, which Russia has repeatedly denied.
Kishida's visit to Moscow is a necessary step and condition to prepare for the visit of Russian President Vladimir Putin to Tokyo, which is expected to take place later in 2015.