Friday's announcement came after Belgium's six F-16 fighter bombers had already returned from their base in Jordan, where they had spent the last nine months participating in the US-led bombing campaign against ISIL in Iraq. Brussels has declared that it could no longer afford to continue funding the air operation.
Asked for comment by Sputnik, Syrian Information Minister assistant Ali al-Ahmed stated that Brussels' announcement comes as no surprise, given repeated reports of Europeans' growing doubts "about the effectiveness of the coalition and its operations." Noting that the Belgian government has been plagued by high rates of disapproval of "this enormous and ineffective spending," al-Ahmed told Sputnik that "Belgium has now come to personify European countries' dissatisfaction over the coalition's actions."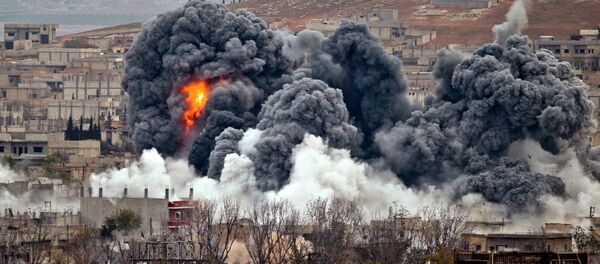 The Syrian civil servant lamented that "from the very beginning, this coalition has not been serious in its approach to fighting the terrorists. We have noticed that the coalition only strikes at those ISIL and al-Nusra objects which threaten Western interests. The coalition's military aviation is fighting terrorism not out of the need to fight evil, but based on the narrow self-interest of the parties involved." According to al-Ahmed, "this explains why air strikes regularly miss ISIL targets and facilities," or strike "military targets of the forces of the people's militia leading the real fight against ISIL." The advisor notes that "even civilians who assist the army and the militia have repeatedly been subjected to coalition airstrikes."
Al-Ahmed criticized Western nations' use of limited financial resources for expensive airstrikes, noting that these funds could have been much more effectively spent by providing assistance to the countries directly involved in the fight against ISIL terror, including Iraq and Syria.
Ultimately, Al-Ahmed, whose country has been involved in a battle against radical Islamic groups for over four years now, pessimistically noted that "the main goal of this coalition is to preserve the balance of forces on the ground, so that no one can win, with the shedding of blood continuing for a long time, until the US is able to implement its interests in the region."