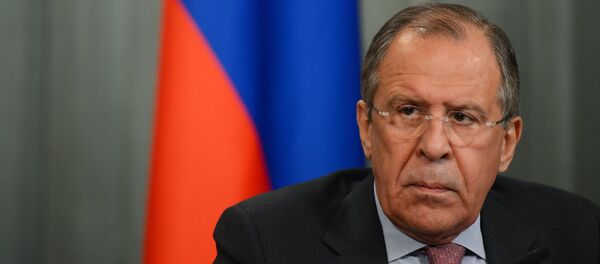 MOSCOW (Sputnik) — The Organization for Security and Co-operation in Europe's Special Monitoring Mission (OSCE SMM) has documented shelling of the buffer-zone areas in the eastern Ukraine, coming from the west, the SMM said in a report issued on Friday.
The OSCE monitoring mission was deployed to the region to observe the implementation of peace agreements by Kiev and pro-independence militias of Donbas, hammered out in the Belarusian capital Minsk and mediated by Russia, France and Germany in September 2014 and February 2015.
"In the south-eastern part of the village [of Shyrokyne], the SMM saw a crater of 12m (over 39 feet) diameter and 4m (over 13 meters) deep, many 82mm mortar shells, the remnants of ammunition crates and numerous impacts of 152mm artillery strikes, which based on their location, the SMM assessed to have been fired from the west," the report said.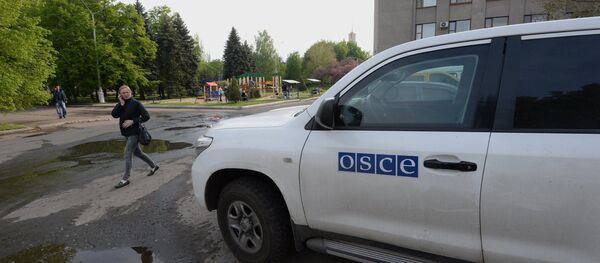 It stressed that "SMM did not observe any DPR [Donetsk People's Republic] presence in Shyrokyne."
Besides, according to the report, the OSCE SMM visited the village of Sakhanka, that had been shelled on June 30 and July 1.
"The SMM observed five fresh craters and damage on 15 houses and assessed that the fire originated from the south-west," the report said.
The February Minsk ceasefire deal stipulated the creation of a buffer zone and the pullback of heavy artillery from the line of contact.
On June 12, the head of Kiev's special operations in eastern Ukraine, Andriy Lysenko, said Ukraine strictly adheres to the Minsk agreements regarding the withdrawal of heavy weapons and over 100-mm caliber artillery systems from the line of contact.