LONDON/MOSCOW (Sputnik) — Fitch Ratings said Friday it has affirmed Russia's Long-term foreign and local currency Issuer Default Ratings (IDR) at 'BBB-' with a Negative Outlook.
"Fitch forecasts Russia's economy will contract in 2015 by 3.5% after being hit by multiple shocks in 2014…Russia has recovered some competitiveness, but the medium-term growth outlook is the weakest of major emerging markets, at 1%-2%," the agency said in a statement.
Last month, the Bank of Russia projected the country's gross domestic product to fall by 3.2 percent this year, a slight improvement of the Central Bank's earlier 3.5-percent estimate.
"The Outlook is Negative. Consequently, Fitch's sensitivity analysis does not currently anticipate developments with a high likelihood of leading to a positive rating change," the statement said.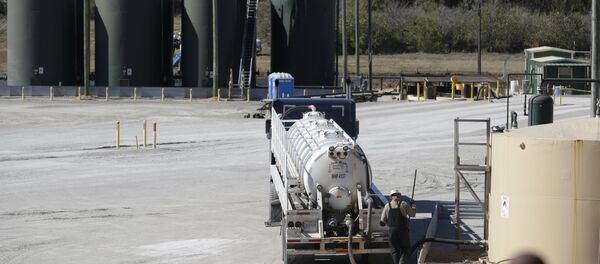 Fitch downgraded Russia's measure of credit risk from 'BBB' down a notch at the start of 2015, doing the same for 30 Russian and Russian-owned financial institutions the following week. It cited falling oil prices, rouble depreciation and the effects of a recession on the country's financial sector as reasons behind the negative outlook.
The 'BBB-' rating is one mark above the speculative grade, or "junk" bond category.
Over the course of the year, three major rating agencies in addition to Fitch, including Standard & Poor's (S&P) and Moody's, downgraded Russia's credit rating to junk or near-junk status.
The Russian Finance Ministry argues that the slew of downgrades by western ratings agencies are politically motivated and do not reflect the real market.