MOSCOW (Sputnik), Alexander Mosesov – The US military must not act unilaterally in its fight against militant groups in northeast Africa's Somalia, the leader of a US Global Drones Watch pressure group told Sputnik on Friday.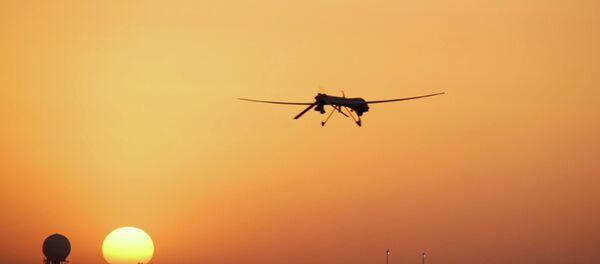 The Pentagon has been found running a base in the Somali city of Kismayo, where, in addition to housing up to 120 military personnel, it launches unmanned aerial vehicles (UAV) to conduct counterterrorism operations. Another base near the capital city of Mogadishu is used for both drone strikes and training Somali security forces, the Foreign Policy magazine reported in an exclusive piece on Thursday.
Medea Benjamin, founder of Global Drones Watch, points to the dangers of unilateral drone strikes not only in the Middle East, but in North Africa as well.
"While they may be attacking people who deserve to be attacked, I'm not saying that I like Al-Shabab, but I think it should be done through the UN and the African Union, not unilaterally by the United States," Benjamin told Sputnik.
Washington officially denies flying UAVs from sovereign Somali territory, including to neighbouring Djibouti, Kenya and Ethiopia, where the Al-Shabab militant group is known to operate.
"It's very shocking that there are bases the US is using in Somalia to launch drone attacks totally behind the back of American people," Benjamin told Sputnik.
The Bureau of Investigative Journalists estimates that up to 105 people may have been killed in US drone strikes in Somalia.