MOSCOW (Sputnik) – Solar Impulse 2 (SI-2), a sun-powered plane which has embarked on a round-the-world flight, has completed a record-setting, longest leg of its circumnavigation journey, having landed in Hawaii.
Andre Borschberg, who was piloting the plane on its flight from Nagoya, Japan to Oahu, Hawaii praised the reliability of SI-2, saying that it demonstrates the power of clean technologies.
During 5 days and 5 nights, I relied on the power of the sun, without any technical problem. It was extraordinary! pic.twitter.com/IMxK9uzfWj

— André Borschberg (@andreborschberg) July 3, 2015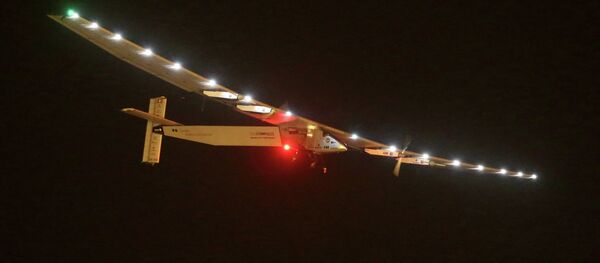 The Swiss pilot stressed that for him and his partner, Bertrand Piccard, the SI-2 flight to Hawaii, which set a record as the world's longest solar-powered flight by both time and distance (over 4,000 miles), and as the longest solo flight by time is "a dream coming true."
Borschberg and Piccard are the founders of the Solar Impulse project and both are taking turns piloting the single-seater SI-2 during the round-the-world flight, which started in March with the plane's departure from Abu Dhabi, the capital of the United Arab Emirates.
SI-2 can reach a maximum speed of 140 kilometres (87 miles) per hour. Its wingspan is 72 meters (236 feet) and the weight is only 2,300 kilograms, or 5,070 pounds, equivalent to that of a car.
The plane is powered by sun energy collected by over 17,200 solar cells covering its wings, fuselage and tailplane.
The aircraft's prototype is Solar Impulse 1, which was used by Borschberg to conduct the world's first ever manned 26-hour solar-powered flight in July, 2010.