On Thursday, Fichter offered a tearful apology after admitting to having sex with three of her 17-year-old students, before being sentenced to 22 years in prison by a Florida judge. "All I can say is I'm so sorry," the 30-year-old ex-teacher told the court. "I wish I could take it back, and my words are not going to suffice; I know that." But as NBC affiliate WPTV explained, the judge in the case was relentless, slamming Fichter over the fact that some of the sexual relationships may have overlapped. "You're going to have a long time to think about what you did," the judge noted, before passing down the 22 year sentence. 
Russian-language social media users responded speedily and sharply against the verdict, with users from Russia, Ukraine and Belarus instantly inviting fellow users to join the 'Freedom Jennifer Fichter' petition at whitehouse.gov, calling the woman 'a saint', and noting that people have gotten off more lightly for committing much more serious crimes.
A common defense emerging among social media users was to compare Fichter's case to that of Norwegian terrorist Anders Breivik: "[Anders] Breivik, who killed 77 people in 2011, received one year less than Jennifer, who made a few sexually mature guys happy," a frequently retweeted and reposted comment noted.
© Twitter / OdiN RhymeFall
Stylized photo of Fichter, convicted of having sexual relations with three 17-year-old teens by a Florida judge.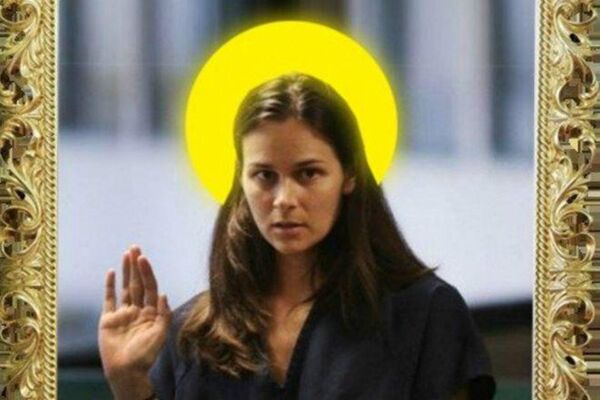 Stylized photo of Fichter, convicted of having sexual relations with three 17-year-old teens by a Florida judge.
© Twitter / OdiN RhymeFall
In addition to urging people to sign the White House petition, which is on the brink of reaching the 100,000 signatures necessary for the appeal to be considered by President Barack Obama, Russian social media users also organized a second petition, which has already gathered 23,000 signatures only one day after its creation.
The tongue in cheek petition reads: 
"Jennifer received 22 years for bringing three mature adult male students into adulthood. 22 years for seeking happiness and the presence of a loved one by her side, even if that person may have been younger than she was. 22 years, despite the fact that the students themselves wanted to be with her, wanted her affection and attention. Comrades! Sign the petition! Anyone could end up in her place, and if we close our eyes to this incident now, after some time students will be given the power to imprison any loving woman, whom our society needs so much!"
Users responding to the petition stated that they felt "truly sorry for the young woman," asking "whether this crime really has any victims." One user jokingly commented that "she would have been given a lesser sentence for killing the students than having sex with them."
"At 17 years of age, a man is sexually mature," another comment reads. "What is even the issue here? At 17 I did much worse, and not just with a teacher."
One user also brought the case into the realm of politics, stating that "the Americans have completely lost it; she should submit documents for Russian citizenship," referring to the fact that 16 is the legal age of consent in Russia.