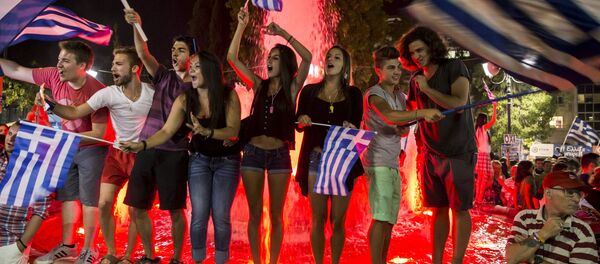 MOSCOW (Sputnik) — Greece voted in a nationwide referendum on Sunday on whether the country should accept its creditors' demands for spending cuts and tax increases in exchange for financial aid. As a result of the vote, over 60 percent of Greek voters rejected the new bailout terms.
The investigation was launched into the media coverage of the referendum, with the prosecution examining whether certain media outlets attempted to 'cheat' voters by influencing them, which is prohibited by the Greek Penal Code, the Greek To Bima newspaper reported.
Specifically, the prosecution's probe will pay attention to how media outlets covered last week's developments, such as the closure of banks as well as the "Yes" and "No" rallies.
The prosecutor reportedly received numerous complaints about media bias even before the referendum, the newspaper said.
The referendum was announced on June 27, just days before Greece's latest bailout program was due to expire.