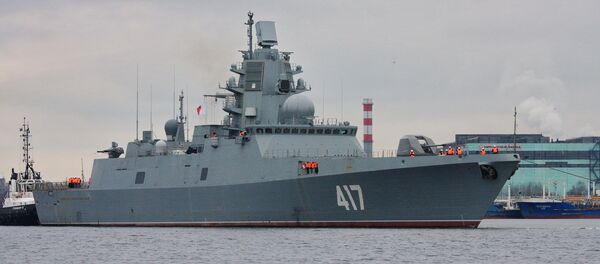 A scaled-down prototype of the Rusich 1 corvette was unveiled during a recent naval show in St. Petersburg.
"Last year we built a 12 meter-long, 3.7 ton self-propelled model and it performed way better than a conventional single-hull ship," Andrei Kharitonov, a representative of the Zelenodol Design Bureau, told RIA Novosti on Sunday.
"The Rusich 1 will be able to shoot straight even in a Force 6 storm, which is something none of the ships presented at the naval show can do," he added.
On the Rusich 1 trimaran the engines are placed outside the hull, which makes the ship more stable and allows the installation of all types of armaments.
Before this year is out St. Petersburg's Northern Shipyard will lay the keel of another Project 20386 new generation corvette for the Russian Navy.
The ship is a new type of a modular, reconfigurable surface ship.