PARIS (Sputnik) — Fifty percent of those polled are in favor of Greece leaving the Eurozone, while 49 percent are against Grexit, according to the poll conducted by French survey company Odoxa.
"If the crisis confirms indeed the French rejection of the current functioning of the European institutions, it does not contradict their desire to find solutions within Europe," Odoxa CEO Celine Bracq was quoted as saying by the French Le Parisien newspaper.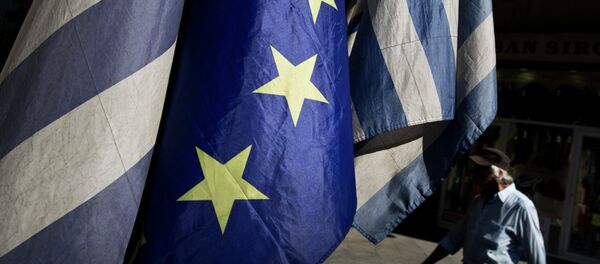 As for the policy of austerity pursued by European institutions, only 24 percent of French respondents believe that such measures are a viable way for Greece to solve its debt crisis.
On Sunday, over 61 percent of Greek voters said "No" to a recent bailout deal proposed by the country's international lenders and rejected by the country's government. The bailout accord offered Greece more loans in exchange for additional austerity measures and unpopular economic reforms.
Following the vote, a new wave of speculation about Greece's possible exit from the Eurozone emerged amid the country's financial crisis.