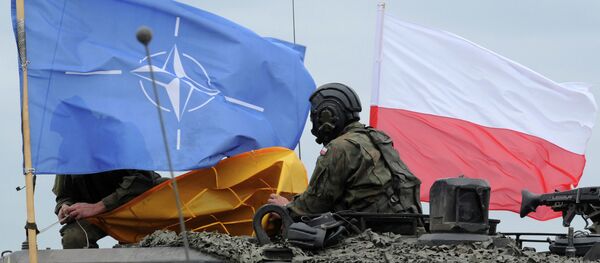 Poland's National Broadcasting Council (KRRiT) has moved to cancel the license of a local radio station that airs Sputnik news agency's radio shows for an hour every day, in what Sputnik's editor-in-chief indicated was an attack on democracy.
Radio Hobby is facing closure for allegedly violating the country's law on radio and television broadcasting  by "handing over some of its authorized airtime to a third party, thus forfeiting its right to influence the content and presentation of  the broadcast material," the NRRC said in a statement.
Pawel Kubalski, the founder of the Polish radio station Hobby, which broadcasted Sputnik programs, told Sputnik that the companies have successfully cooperated for 5 years, adding that he doesn't know who may be behind the incident.
"Poland has a huge television association called Polsat. They have their own digital platform, which broadcasts different channels, including RT. It's on air 24/7 and no one is concerned that digital Polsat, which is owned by TV station Polsat, the largest company in the country, offers RT in its cable package," Pawel Kubalski said.
"I suspect it's precisely because they're a huge company, nobody bothers them. But we're a small independent local station that works with Radio Sputnik, and it's a lot easier to create trouble for us – simply because we don't have the resources or the lawyers to fight. Sadly, this is true for many places around the world – the law is dictated by those with access to more money and lawyers," he added.
RT Editor-in-Chief, Margarita Simonyan, said she was not at all surprised by Poland's decision.
"It's a pity that  people who close down radio stations for airing a different opinion still believe they live in a democracy," she added.
"We had no problem at all [with the Sputnik segment] before the conflict in Ukraine actually started," Radio Hobby director Tomasz Brzezinski said.
"We just broadcast the material they send us an hour before airtime, after we checked the content. If they called for a putsch here in Poland we would never let it out… We are not Russian spies, no sir," he added.
The Sputnik programs in Polish offer more than just political information Warsaw brands as "Russian propaganda". They are also about science, culture, art and everyday life in Russia.
"This is a political game some people are playing here, calling us Russian spies," Tomasz Brzezinski concluded.
Sputnik Press Office has made an official statement on the issue:
"Sputnik Poland is currently broadcasting and will continue to broadcast its programs in the same volume. Sputnik's content is also available online on the website of the Sputnik Poland news agency and radio. We have not received any notification regarding the termination of the contract for broadcasting in the FM band. Sputnik's editorial policy is based on the fundamental principle of freedom of speech. Sputnik offers diverse perspectives on international issues, including telling the untold. The audience of Sputnik Poland is steadily growing. We hope that Poland's National Broadcasting Council (KRRiT) will act in strict compliance with international law."