ATHENS (Sputnik) — Earlier on Tuesday, French President Francois Hollande told reporters that Athens has presented only partial proposals on how to resolve the Greek debt during a meeting of the Eurogroup, and these proposals must be specified and completed.
"Greek government has put forward today both at Eurogroup and at the Eurozone Summit, the proposals, presented as a national strategy… Main aim is to reach a viable agreement, socially just… for both Greece and the Eurozone."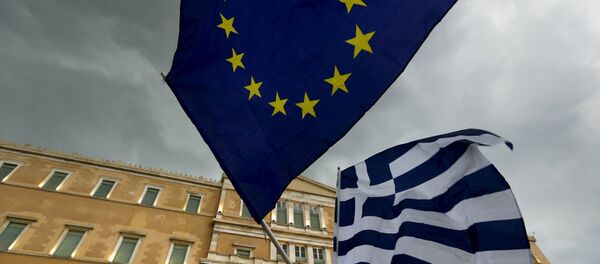 According to the Greek Prime Minister, the agreement between Greece and its lenders should include "obligations for the other side [the EU] to cover financial needs of the country in a medium-term perspective, a package of investments to fight the big problem of unemployment and the resumption of much-needed debt restructuring."
Greece's overall debt stands at about $350 billion, of which $270 billion is owed to the European Central Bank, the International Monetary Fund and some eurozone countries
On Sunday's referendum more than 61 percent of the Greek public voted "no" on creditors-proposed bailout plan that envisaged spending cuts and tax increases in exchange for another loan.