MOSCOW (Sputnik) — The People's Assembly pressure group called for a national day of protest after the UK's Chancellor of the Exchequer indicated he was going to present a new emergency budget for 2015, the second emergency budget in past months. It will reportedly include a bulk of proposals calculated to shave $18.5 billion of expenses from the national budget.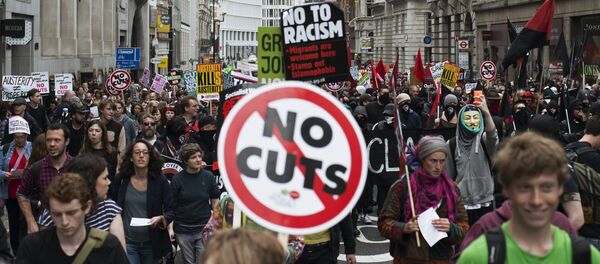 The event's Facebook page has been "liked" by more than 40,000 people. In London, protesters will gather on Wednesday afternoon outside the nation's parliament to stage a mass "die-in," where they will lie on the ground to represent low-income citizens who were reported to have died after losing social benefits.
A petition calling for the British government to release the statistics for benefits-related deaths in the country has gathered over 230,000 signatures in a few weeks.
The UK secretary for work and pensions, Iain Duncan Smith, initially denied that such data existed, but Prime Minister David Cameron said in June he had ordered the figures prepared for publication.
A previous round of anti-austerity demonstrations took place last month. It was the first major rally targeting Tory policies after Cameron's Conservative party triumphed at the general elections on May 7, 2015.