HELSINKI (Sputnik) — The Organization for Security and Co-operation in Europe Parliamentary Assembly (OSCE PA) will hold a high-level meeting on Friday to discuss Helsinki Final Act commemorations, OSCE Secretary General Lamberto Zannier said Thursday.
The OSCE PA Annual Session took place in Helsinki July 5-9. The meeting commemorated the OSCE's founding document, the Helsinki Final Act, signed in the Finnish capital in 1975.
Around 300 delegates from OSCE participating countries discussed pressing global issues, including the migrant crisis in Europe, the conflict in Ukraine and the economic situation in Greece.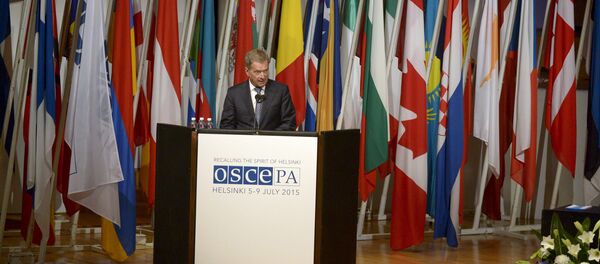 The session concluded with the adoption of the 2015 Helsinki Declaration which includes recommendations for the organization and its participants.
"It is a lot of work for us to be done to use commemorations of the Final Helsinki act. Tomorrow, we are going to have a high level meeting here… followed by the informal meeting to assess a more intergovernmental mode to discuss the way forward for the organization," Zannier said, addressing the meeting.
The Helsinki Final Act was signed by 35 countries on August 1, 1975, in an informal, non-binding attempt to improve relations between the then-communist bloc, comprising the Soviet Union and the countries of the Warsaw Pact, and the West.