Saudi's practices toward the media were revealed in leaked cables between the kingdom's embassies and its foreign ministry. The communications were dubbed the "Saudi Cables" and published by whistleblower website WikiLeaks.
"While it is not always clear from the cables what was actually done, they expose the extraordinary initiatives that were at least considered by the Saudi government in an attempt to improve its image abroad." Reporters Without Borders (RWB) said in a release.
Saudi Arabia promotes its own interests by channeling funds to media organizations all over the world, usually in the form of outright donations or thousands of subscriptions, RWB said.
"In 2011, for example, the Saudi embassy in London suggested funding Wesal Farsi TV (now called Tawhid), a London-based, Persian-language TV station owned by a Sunni Iranian citizen opposed to his country's government. In return for monthly funding and allowing Saudi Arabia to appoint a representative to its board of governors, the TV station would respond to Iranian media criticism of Saudi Arabia."
Other times, media outlets would approach the Saudis and request funding, as Afghan media center Spogmai did in 2009. The outlet wanted to create a news website, daily newspaper, magazine and TV station to serve as counterweights to Afghan media funded by Iran or India, RWB reported.
Those outlets that published damaging reports about the kingdom could be subject to counter-attack or sanction from the Saudi government, according to RWB.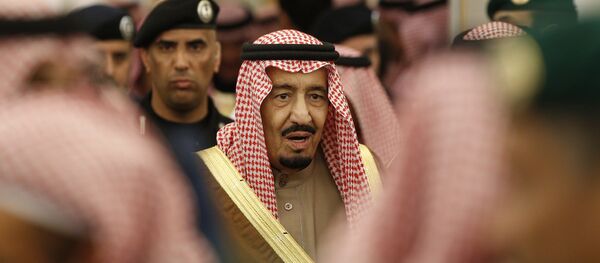 London-based Financial Times newspaper had to withdraw its correspondent and close its Riyadh bureau for publishing "lies" about Saudi Arabia. Saudi authorities even considered pursuing legal action if the paper did not  apologize and cover the kingdom in a "neutral" and "objective" manner.
Saudi Arabia also planned to enlist the help of individual journalists, like when it heard rumors that the Israeli embassy in Berlin was cooperating with German media publications on a media campaign against Arab countries.
In response, the Saudi embassy proposed recruiting German journalists to write articles about Saudi Arabia every six months, for which the embassy would pay the journalists at least 7,500 euros a month.
"The embassies play a dynamic role in organizing and maintaining active pro-Saudi propaganda abroad. As they are familiar with the local media, they are best placed to monitor what the media are saying and to make suggestions to the Saudi government," RWB said in its release.
Following the revelations by WikiLeaks, the Saudi government warned its citizens not to share the documents, saying the cables could have been fabricated.